Explore the French Riviera, a celebrated yachting haven known for its unique combination of scenic beauty, cultural depth, and maritime excellence.
As specialists in luxury yacht charters in this region, we're here to guide you through the distinct charm and appeal that draws our discerning clients. Let's embark on this journey together
Why is the French Riviera the perfect place for a yacht charter
Convenience and comfort in cruising
One of the Riviera's most appealing aspects is the proximity of its famed destinations.
Imagine setting sail from the glamorous marina of Monaco, cruising along the serene coastline, and anchoring in the vibrant waters of Saint-Tropez, all within a day's journey.
This close-knit arrangement of hotspots ensures a smooth and comfortable cruising experience, free from the concerns of long-distance travel and unpredictable seas.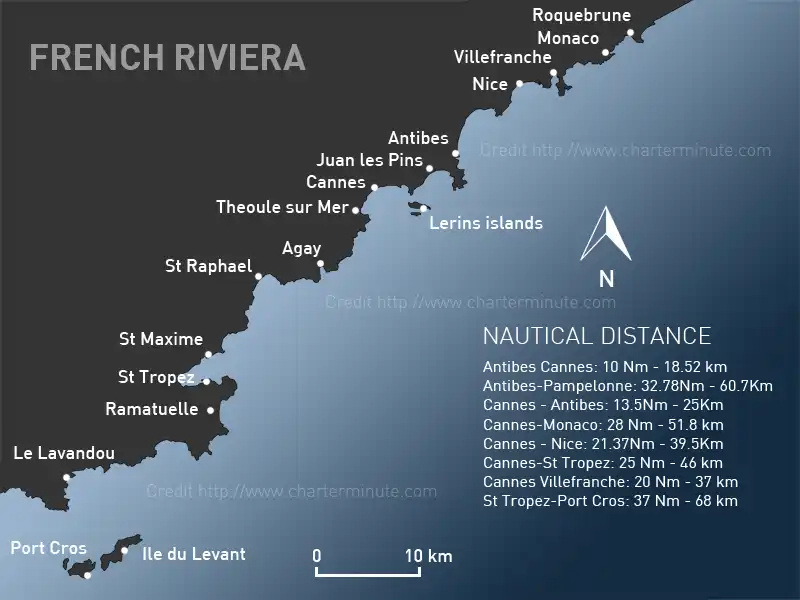 This region's easy accessibility makes it a popular choice for discerning charterers.
World-class facilities and a destination for every taste
The ports and marinas along the Riviera are more than just docking spaces; they are gateways to luxury and adventure.
Each port, from the bustling old port of Cannes or port Hercule in Monaco to the quaint harbors of Saint-Tropez, is equipped with state-of-the-art facilities to cater to our clients' every need.
The true beauty of the French Riviera also lies in its diversity.
From the chic, designer-filled boutiques of Cannes and Monaco to the untouched natural beauty of the Lérins and Golden Islands, there's something to satisfy every taste.
In addition, sophisticated beach clubs near Saint-Tropez offer a haven for relaxation and socializing, while the Esterel coast presents unspoiled landscapes for those seeking tranquility and connection with nature.
Whether you're inclined towards the historical charm of ancient towns or the modern allure of high-end boutiques and chic beach clubs, the Riviera offers it all.
Ideal climate for yachting vacation
The French Riviera is blessed with over 300 days of sunshine yearly, accompanied by a mild, inviting climate.
These conditions are perfect for yachting, offering calm waters and gentle breezes that make sailing pleasurable throughout the year.
Whether basking in the summer sun or enjoying the quieter off-peak seasons, the Riviera's climate adds a touch of comfort to your luxury yacht experience.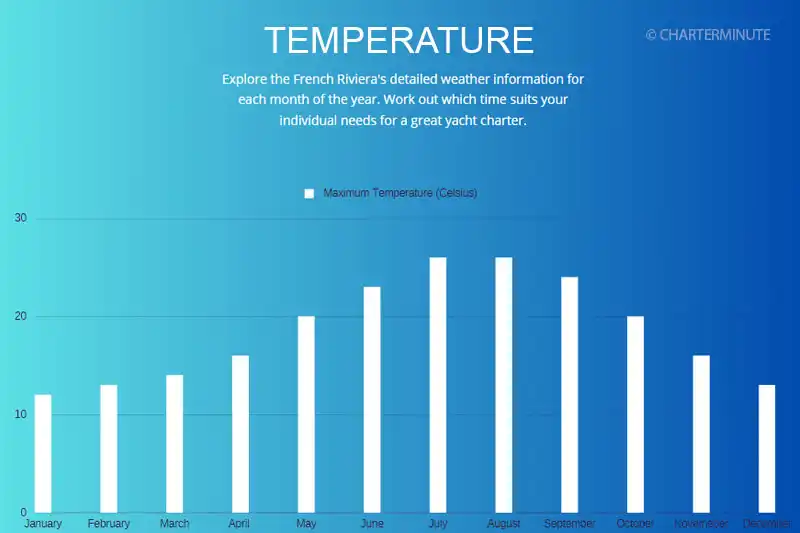 In the following sections, we'll delve deeper into each of these remarkable destinations, showcasing what makes them unique and why they are must-visit locations for anyone considering a French Riviera luxury yacht charter.
Join us as we embark on this journey of discovery, luxury, and distinctive maritime pleasure.
Need help?
Contact us for availability, booking process, and yacht charter availability.
T: +33.(0)6.62.46.59.91
Contact us
Most popular destinations
Monaco: a heaven of luxury and glamour
The Essence of opulence.
Monaco stands as a beacon of luxury on the French Riviera. This tiny sovereign city-state captivates with its blend of elegance and excitement.
Here, the Mediterranean's azure waters meet a skyline dotted with high-end resorts and superyachts that mirror the grandeur of this locale.
Monaco is not just a destination; it's an experience, offering a glimpse into a world of refined luxury.
Unmatched amenities and vibrant culture
In Monaco, every detail caters to an elite experience. The marinas are equipped with top-tier facilities, ensuring that every need is met with the highest standard of service.
Beyond the marinas, Monaco's streets buzz with a unique energy. From the Monte Carlo Casino to luxury boutiques and upscale dining (Louis XV, Yoshi or Blue Bay), countless indulgences are available.
The city's vibrant cultural scene, marked by prestigious events like the Monaco Grand Prix, adds to its allure, making it a must-visit for those seeking relaxation and entertainment on their yacht charter.
The Grimaldi Forum is a must-visit venue for its diverse musical events and exhibitions.
A panoramic paradise
The views from a yacht in Monaco are nothing short of spectacular. Climbing the narrow street toward the Palais Princier offers a stunning view of Port Hercule, Monaco's main port.
As you cruise along its coast, the panoramic vistas of the city and the Mediterranean Sea create a backdrop that is both breathtaking and serene.
Principality of Monaco

" We may be small in size but we have a lot to offer. Visit us – that would be great. Live in Monaco if there is room – that would be wonderful. " – Albert II, Prince of Monaco
Whether you're enjoying a sunset dinner on deck or lounging in the sun, the scenery of Monaco provides a perfect setting for creating unforgettable memories.
Beaulieu-sur-Mer/St-Jean: serenity and old Riviera charm combined
Tranquil beauty and elegant atmosphere
Beaulieu-sur-Mer, with its beautiful Belle Époque architecture, is a haven of peace and elegance. This small town offers a tranquil setting, away from the hustle and bustle of the larger Riviera cities.
A hidden gem for discerning travelers
Beaulieu-sur-Mer and St-Jean Cap Ferrat are the hidden gems that offer a unique experience for those seeking a more intimate and relaxed yachting destination.
Their charm lies in its ability to provide a luxurious experience without the crowds of the more well-known Riviera hotspots.
Try the truffle pizza at African Queen restaurant in Beaulieu-sur-Mer.
Top attraction: visit the seven themed gardens of Villa Ephrussi in St-Jean-Cap-Ferrat.
Nice: a blend of tradition and culture
Charming history meets contemporary splendor
Discover the unique cultural elegance of Nice, where Italian flair blends with authentic old-town charm at the historic Promenade des Anglais.
The old town, with its colorful markets and narrow streets, invites exploration, while the modern city boasts some of the finest dining and shopping on the Riviera.
This city is a treasure trove of experiences, from its stunning pebble beaches to its rich cultural tapestry.
Please oversee your belongings while in the old town, as pickpocketing has been reported.
Culinary delights and artistic heritage
Nice is renowned for its culinary scene, which ranges from traditional Niçoise cuisine and socca to world-class gourmet experiences.
Its numerous museums and galleries show the city's commitment to the arts. It offers a glimpse into the artistic heritage that has long attracted painters and writers to this sun-drenched coast.
Visit the Musée Matisse, as well as the Musée d'art moderne et d'art contemporain. For a more intimate experience, consider visiting Musée Chéret located in an old Riviera palazzo.
A beachfront beauty
Nice's pebble beaches are a highlight for any yacht charterer.
With its mixture of public and private beaches and numerous beach clubs, the city's coastline caters to all preferences – whether seeking a lively beach club atmosphere or a tranquil spot to unwind.
Unique experience: you can enjoy a refreshing drink while taking in the stunning view of the sea from La Reserve.
If you're looking for a cozier atmosphere, head to the bar at the Negresco hotel for its piano bar and classic Riviera ambiance.
Antibes: a picturesque escape into authenticity
Historic charm with modern luxury
Antibes combines the charm of its historic old town with the luxuries of modern living.
This picturesque town is known for its ramparts along the sea and the vibrant Port Vauban, Europe's largest marina.
Cultural richness and culinary delights
Antibes has a rich cultural heritage, with several museums and galleries, including the famous Picasso Museum.
The town's dining scene offers everything from traditional French cafes to high-end restaurants, serving the region's best flavors.
Local culture: visit the tiny Absinthe bar in the old town to try an anise-flavored spirit derived from several plants.
Juan les Pins – Hotel Belles Rives

" On the pleasant shore of the French Riviera, about had way between Marseilles and the Italian border, stands a large, proud, rose-colored hotel…" – F. Scott. Fitzgerald
A Relaxing retreat
The coastline around Antibes is dotted with quiet coves and sandy beaches such as La Garoupe or Ponteille beaches, offering a more relaxed atmosphere for yacht charter guests.
It's the perfect destination for those who want to combine the tranquility of a seaside town with the convenience of nearby luxury amenities.
Cannes: where history meets sophistication
Cannes – Film Festival

" So, where's the Cannes Film Festival being held this year? " – Christina Aguilera
Glamour and prestige at every turn
Cannes is synonymous with sophistication. This city is not just famous for its international film festival; it's a year-round haven for luxury and celebration.
The Croisette Boulevard is known for its array of designer boutiques, providing visitors with the ultimate shopping experience.
Its luxurious hotels, including the Carlton and the Martinez, and its upscale restaurants, are the epitome of opulence, catering to a discerning clientele that demands nothing but the best.
The Cannes (Old Port) marina is more than just a place to dock your yacht; it is central to the Cannes experience.
Cannes docking tip: choose the Old port
Why?
Diverse dining: From cozy bistros (Quai Saint-Pierre) to high-end restaurants (La Croisette), the Old Port offers culinary delights just steps away.
Historical charm: Explore Cannes' old town's rich cultural heritage from this vibrant port.
Energetic vibes: The Old Port buzzes with life, thanks to the nearby Palais des Festivals and Casino.
You may also want to consider Port Canto but keep in mind that it is further away from the central attractions.
The views of the city from the old town (Le Suquet) are spectacular, especially during the evening when Cannes is illuminated in all its glory.
Experience the newly renovated Felix Faure area within walking distance of Cannes' old port. Visit Marché Forville to taste succulent, locally sourced produce.
Saint Tropez: the ultimate destination for a beach club experience
Beachside bliss and exclusive charm
The French Riviera's Saint Tropez area, particularly Ramatuelle, is renowned for its stunning beaches and exclusive ambiance.
This destination has long been a favorite among celebrities and discerning travelers for its unique blend of laid-back beach life and luxury.
Gourmet dining and high-end shopping
The town has high-end boutiques and gourmet restaurants (La Messardière, Cheval Blanc…), offering a taste of the good life.
The local cuisine, emphasizing fresh Mediterranean flavors, is a highlight for any visitor. Saint Tropez's market, Place des Lices, is also a must-visit for those looking to experience the local culture and flavors.
Vibrant nightlife and serene beaches
While Saint Tropez is famous for its vibrant nightlife at Les Caves du Roy, Ramatuelle is renowned for its 4.5km Pampelonne beach, which offers a chic and lively escape.
The crystal-clear waters and sandy shores are perfect for a day of relaxation or water sports. The beach clubs (Club 55, Nikki Beach, Loulou, or Bagatelle) provide a luxurious setting to enjoy the sun and sea, with all the desired amenities.
As we conclude our exploration of these fantastic destinations, it's clear that the French Riviera offers a diverse range of experiences for luxury yacht charter clients. Each destination has its unique charm, catering to various tastes and preferences.
Best time to explore the French Riviera
The best time to charter the French Riviera is between May and September. However, summer is popular and more crowded.
The weather during these months is warm and not too windy for a night at anchor. Visitors can enjoy swimming in the Mediterranean Sea and basking in the sun.
Contact us: begin your luxury yacht charter journey
Ready to embark on a luxury yacht charter along the French Riviera?
Contact our brokers to start planning your dream voyage. With our expertise, personalized service, and commitment to excellence, your journey promises to be as unique and unforgettable as the Riviera.
Additional resources
---
---
Thanks for your feedback!