Group boat rentals on eco-friendly vessels
The Smart Choice for nautical Events
In today's world, eco-consciousness is not just a trend; it's a necessity. That's why eco-friendly boat rentals for team events are gaining traction.
Whether it's a corporate gathering or a casual day out with colleagues, these green options are the way to go. Explore the enticing possibilities of large group boat rentals on the French Riviera for your next corporate or private events.
Our new maxi-catamarans are the best sustainable and budget-friendly gathering options to entertain up to 200 guests.
Take a look at our large group boat rental packages, including pricing, amenities, top destinations to explore, expert tips, and more.
Group boat rental packages
We provide customized boat rental options for groups of varying sizes:
Boat rental for up to 12 guests
*: Number of guests cruising ex-crew
Boat rental for 25 guests
*: Number of guests cruising ex-crew
Party boat rental for 140 guests
*: Number of guests cruising ex-crew
Party boat rental for 200 guests
*: Number of guests cruising ex-crew
How to choose a boat for a group
Choosing a large-group boat hire for a corporate event or private gathering involves several key considerations. Here's a step-by-step guide to help you make an informed decision:
Step 1: Define your objectives
First, determine the date and your flexibility.
Understand the purpose of your event: is it for team-building, client entertainment, or perhaps a product launch?
Your main objectives will guide your choice of boat and the amenities you'll need.
Step 2: Determine the group size
Knowing the maximum number of participants is crucial to choosing the right boat.
Vessels are subject to strict maritime regulations, and there isn't much flexibility if you come with more guests than expected in the charter agreement…
Ensure the vessel has adequate space and facilities for everyone.
Step 3: Set a budget
Establish a budget that includes boat rental, catering, and any additional services like entertainment or guided tours and taxes like boating fees and passenger fees.
Request a detailed quote to understand all costs involved and explore package deals that may offer value.
Step 4: Consider the location
The French Riviera offers diverse locations, each with its unique charm. Consider proximity to your guests (do you need any transfer service?) and the scenery you prefer. Ensure that the type of yacht is suitable for your destination: a large sailing catamaran is not that fast.
Check our recommended destinations.
Step 5: Evaluate amenities and services
Do you need a meeting area at the dock?
Is there anyone on your cruise with special needs (food allergies, accessibility?)?
Would you like a custom itinerary?
Look for boat rental solutions that offer the required amenities, such as audio-visual equipment for presentations, specific catering, or water toy options.
Step 6: Sustainability
If environmental responsibility is a concern, opt for eco-friendly vessels that minimize their impact on the marine ecosystem.
Step 6: Finalize and book
Once you have a detailed plan, it's time to finalize the details, sign the contract, and make the necessary payments.
Contact our booking team to secure the boat of your choice.
How to book a boat for a group
Select the Date: Determine your flexibility.
Choose the Boat: Based on preferences, activities, passenger count, and budget.
Contact Us: Via email or phone.
Inclusions: Ask about Captain/Crew, catering options, fuel costs, and boarding fees.
Itineraries: Discuss dining options and water toys.
Terms: Read all rental terms and conditions carefully.
Cost of hiring a boat for a large group
What's included
Here's a rough breakdown of day rates for different boat types:
Power catamaran 44ft: from €3,700 for 12 guests maximum + expenses, ideal for an affordable boat rental around the Lérins Islands from the Cannes area.
Sailing catamaran – 56ft: From €4,200 for 16 guests + expenses, perfect for mid-sized groups, a delivery fee may apply.
Maxi-catamaran – 60ft and more: From €7,600 for 40 guests + expenses, offering a private charter experience.
*: High season day rates including qualified skipper/crew, VAT at 20%, 8 hours yacht rental, fuel for a local tour, boat water toys.
What's not included
Extras: Full catering service and exciting shore excursions are available for purchase based on your preferences.
Crew tip: Remember to tip 10-15% for good service.
Alcohol and food: Can be purchased based on your preferences. Full catering service is available on maxi-catamarans.
Taxes: Local taxes, port and/or passenger fees, tip for pontoon or transfer guy, delivery fee.
Are party boat rentals safe?
All maxi-catamarans for large group hires, sailing or motor catamarans strictly adhere to the commercial standards required for passenger transportation under the French flag.
Moreover, these vessels undergo an annual safety inspection meticulously conducted by French Toulon Maritime Affaires, to meticulously assess the
following critical safety equipment and protocols:

Comprehensive evaluation of fire detection and }re}ghting systems
Scrutiny of systems for the detection and mitigation of water intrusion
In-depth onshore ship inspection by Bureau Veritas for the issuance of the freeboard certi}cate
Rigorous inspection and certi}cation of telecommunication equipment by ANFR
Stringent veri}cation and authorization for navigation permits.
Thorough examination of life rafts.
Best time for a group boat rental
With 300 days of sunshine and a mild climate, the ideal months for a group boat charter are June or September.
During these months, the seawater temperature is between 19-21°C, the air temperature is 25-27°C, and there is still plenty of availability to select the perfect vessel for your event.
Event hosting types
Group boat hires are ideal for various activities, from dockside party boats in the old Port of Cannes to group excursions.
These boat rentals can accommodate various events and social gatherings, such as:
Cocktail and corporate sunset cruises
You can host static charters at the quay (dockside party) or "at anchor" in Cannes or Monaco for events like cocktail parties, yacht parties, and company milestones celebrations, accommodating up to 250 guests (200 guests at anchor).
A sunset or cocktail cruise around the Lérins Islands or in the Bay of Villefranche always offers a unique backdrop for mingling.
Incentive day at sea, rewards, and team building
Companies looking to reward their staff can plan an incentive day around the Lerins Islands and the Cap d'Antibes, complete with water toys activities. These events can accommodate between 12 to 200 guests.
For a unique team-building experience, consider our sailing day package.
VIP event celebration, executive retreat, networking event
The Cannes Régates Royales and Voiles de Saint-Tropez Sailing Regatta typically occur in the shoulder season.
Boat rentals for large groups are available for hosting VIP guests, offering an exceptional vantage point to witness these prestigious Mediterranean events in September or October.
Private event celebration
Our affordable group boat rentals are perfect for special occasions like birthday parties, weddings, or a day of revelry with friends and family.
Expert tips for group boat rentals
Timing is everything: book early to secure your vessel, especially during the peak season of July and August. The number of boats available for large group events is minimal, and demand far exceeds supply.
Choose Wisely: choose a vessel that can comfortably accommodate your group to ensure an enjoyable experience.
Boarding and disembarkation: some ports can be crowded (e.g. Saint-Tropez), especially in August. Flexibility – and patience…- are required for embarkation and disembarkation, especially with a large group.
Itinerary: ensure the yacht's performance aligns with the scheduled itinerary for activities like dining and water sports. Remember that these boats are designed for cruising with a large group, not for speed.
Weather Watch: always consult weather updates before setting sail to plan your journey accordingly.
Recommended destinations
If you want to hire a boat for a group, the Lérins Islands and the Bay of Villefranche sur Mer are the top choices.
These distinctive locations offer quiet, wind-protected waters and stunning coastline views.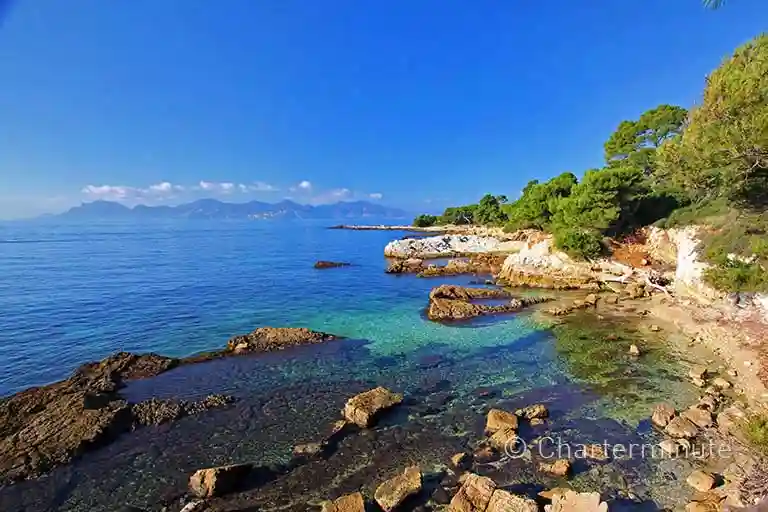 Bay of Cannes, Lérins Islands
Discover the unspoiled beauties of the French Riviera just 1 nm from Cannes.
Guests can have a comfortable and enjoyable onboard experience, even if they are prone to seasickness, due to the sheltered area and limited distance to cover.
A guided shore excursion is highly recommended to explore the rich historical heritage of the Lerins Islands.
The Lérins Islands – and the Cap d'Antibes area – also offer a unique setting for a sunset or cocktail cruise with a large group.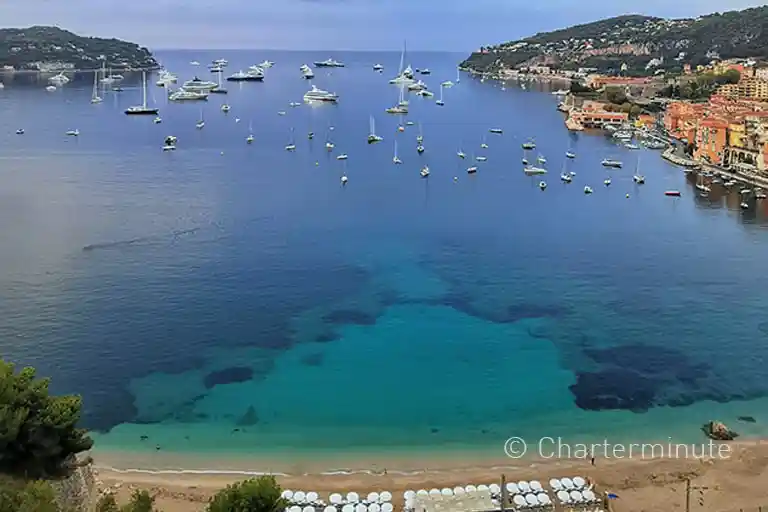 Bay of Villefranche sur Mer
The picture says it all: the bay of Villefranche sur Mer offers an exceptional setting for a successful corporate cruise.
The area around Villefranche sur Mer combines a superb sheltered bay, magnificent scenery with sprawling estates that epitomize the opulence and grandeur of the Belle Époque period, and fine seaside restaurants.
Alternatively, organizing a glorious water toys session for your team near Beaulieu sur Mer is possible.
Last, Monaco is only 30 minutes away from Villefranche sur Mer.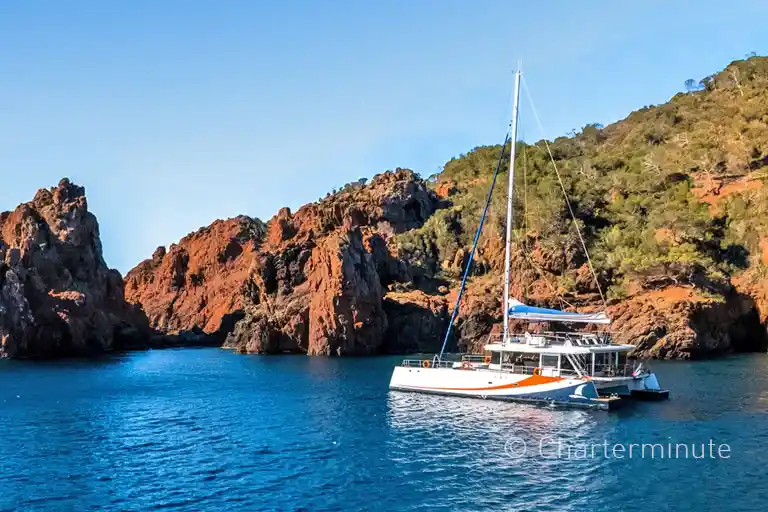 Gulf of Saint-Tropez, Esterel coast
Although Cannes and Villefranche sur Mer are suitable for nautical events most of the year, the Saint-Tropez area can be more windy in the off-season.
However, the Gulf of Saint-Tropez and the Esterel Coast remain popular destinations for corporate cruises and incentive days to entertain guests.
Sailing regattas such as the Voiles de Saint-Tropez (or the Régates Royales de Cannes) are also an opportunity to experience prestigious nautical events with VIP clients and top performers in the total comfort of a private vessel.
Customer success story
Elevate your corporate events: watch a short video of Trace TV's yacht party in the Old Port of Cannes.
The event for 250 guests on a 105-foot flybridge motor yacht featured a live DJ, custom lighting, two bars, security, and exclusive branding.
Client Testimonial
Learn why our private and corporate clients highly regard our tailored yacht charters.
" We had an exceptional experience on our annual incentive trip to Saint-Tropez. The yacht was luxurious, accommodated our 30 guests comfortably, and the crew was friendly and attentive. Highly recommended for any corporate event! "
Tom. C. – CEO, Corporate client, USA, 2020
Need help planning?
Contact us to create your tailored Riviera event.
Contact us
T: +33.(0)6.62.46.59.91
Large group boat rental FAQs
Guide to making the most of your nautical event.
Additional resources
---