French Riviera yacht rental
Charter Your Dream Yacht on the Côte d'Azur
Are you ready to transform your vacation from ordinary to extraordinary?
Welcome to French Riviera yacht charters, where an elevated luxury experience meets unforgettable memories.
A French Riviera yacht charter is more than just a vacation.
It offers a chance to explore pristine locations like La Bastide Blanche, delve into Nice's rich cultural heritage, and visit preserved islands such as Saint-Honorat while sailing on yachts carefully selected by our local experts.
Whether planning a family getaway or dreaming of a super yacht charter, we have the perfect yacht. And our charter deals add that special touch, making your journey truly memorable.
Discover our yacht selection:
French Riviera yacht rental selection
Discover our latest handpicked selection of luxurious motor yacht rentals for the upcoming Côte d'Azur charter season. Revel in first-class amenities and exceptional service from skilled crews while beholding the captivating sights of the beautiful Riviera.
Need help?
Our website showcases only a limited selection of yachts.
Contact us for more options and availability.
T: +33.(0)6.62.46.59.91
Contact us
Special offers
Enjoy significant savings on your next French Riviera yacht charter with our assortment of best-value yacht rentals or last-minute charter deals.
While the dates and destination may sometimes be fixed, anticipate the identical top-of-the-line yachts and silver service. Don't miss out on these affordable yacht charter opportunities.
French Riviera yacht charter special offers
Indulge your spontaneity: savor a private yacht charter at an unbeatable price.
From early booking discounts to complimentary delivery or additional days provided, secure an affordable yacht charter.
Top family-friendly yacht rentals
Rent the best family-friendly yacht charter in South France with a kid-friendly crew, a broad selection of water toys ensuring hours of fun, and flexible layouts to accommodate everyone's needs. Your family escape will be an unforgettable adventure filled with comfort, safety, and endless fun.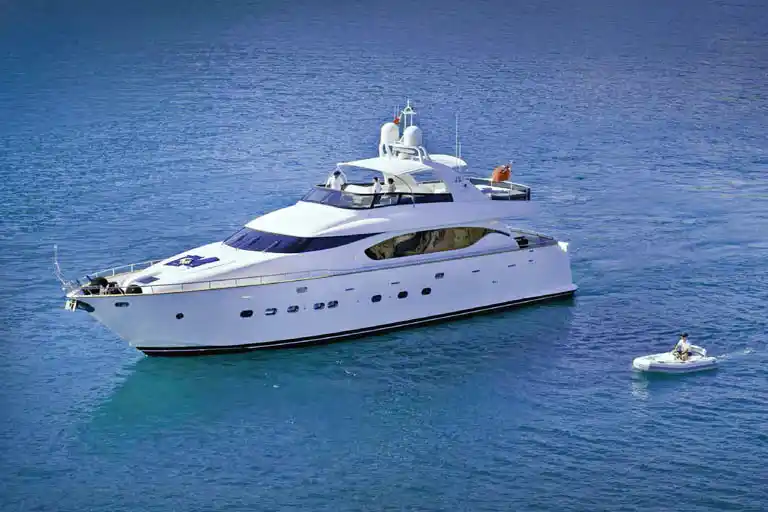 MAIORA 79ft
Year: 2006 – refit 2012
Guests: 8/9 in 4 cabins
Length: 78.8ft (23.97m)
Crew: 4 with Chef
Amenities: luxury Italian motor yacht, superb wooden interior with maxi salon offering bathed in natural light, plenty of space to relax with 2*sunbeds, experienced crew, wakeboard, and snorkeling equipment.
Weekly rate: from €30,000 + expenses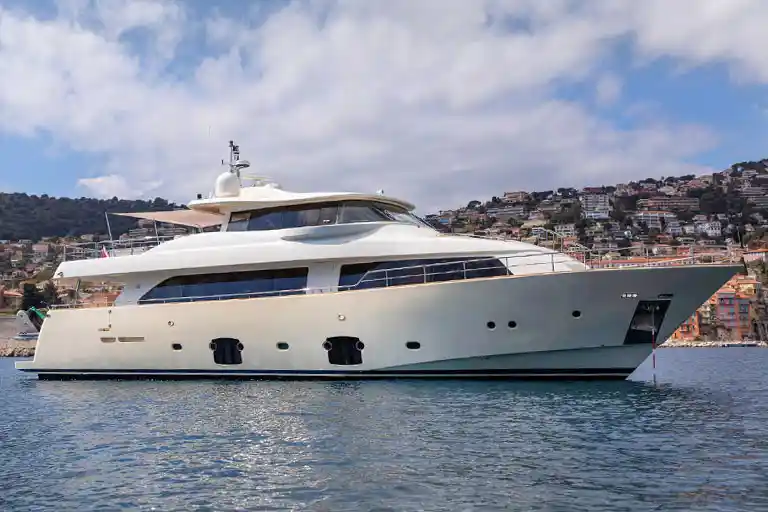 FERRETTI NAVETTA – 86ft
Year: 2010 – 2020
Guests: 10/11 in 5 cabins
Length: 86ft (26.22m)
Crew: 4
Amenities: a trendy & spacious vessel perfect for a comfortable family escape, low fuel consumption, upper salon, stabilizer at anchor & underway, Seabob + large selection of water toys, experienced crew.
Weekly rate: from €44,000 + expenses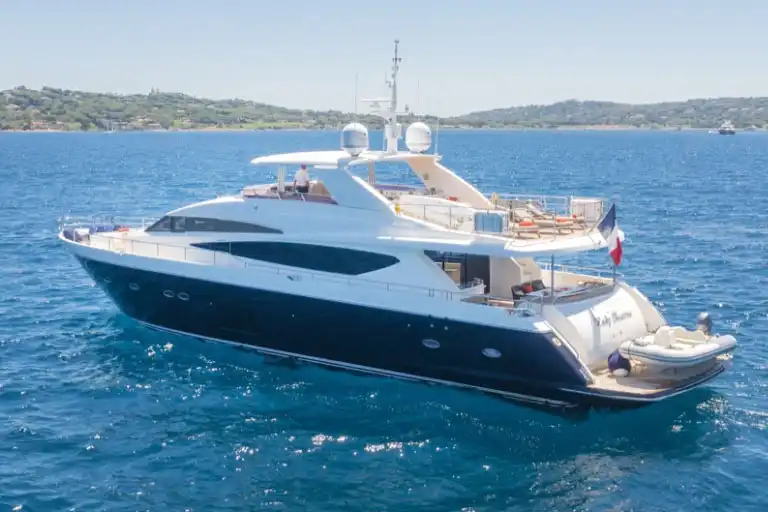 PRINCESS YACHT 98ft
Year: 2013
Guests: 9 in 4 cabins
Length: 98ft (30m)
Crew: 5
Amenities: a classic and popular British flybridge yacht fitted with a warm wooden interior, stabilizer at anchor, maxi flybridge with dining area, bar, and jacuzzi. Satellite TV, 4.7m tender, paddleboard, Seabob, hi-lo swim platform.
Weekly rate: from €75,000 + expenses
Need assistance?
Contact us for more options and availability.
T: +33.(0)6.62.46.59.91
Contact us
Elite super yacht charters
Chartering a superyacht provides exquisite service with a high crew-to-guest ratio, ample space for relaxation and entertainment, and top-of-the-line amenities found only on large vessels, such as sophisticated zero-speed stabilizers, private cinemas, and unique water toys such as submarines.
BAGLIETTO 131ft
Year: 2021
Guests: 11 in 5 cabins
Length: 131ft (40m)
Crew: 7
Amenities: contemporary Italian superyacht, exclusive Paszkowski Design, warm interior by M. Casprini, fast yacht with high cruising speed, stabilizer, jet-ski, jet surf, paddleboard, jacuzzi, hi-lo swim platform, folding balcony.
Weekly rate: from €250,000 + expenses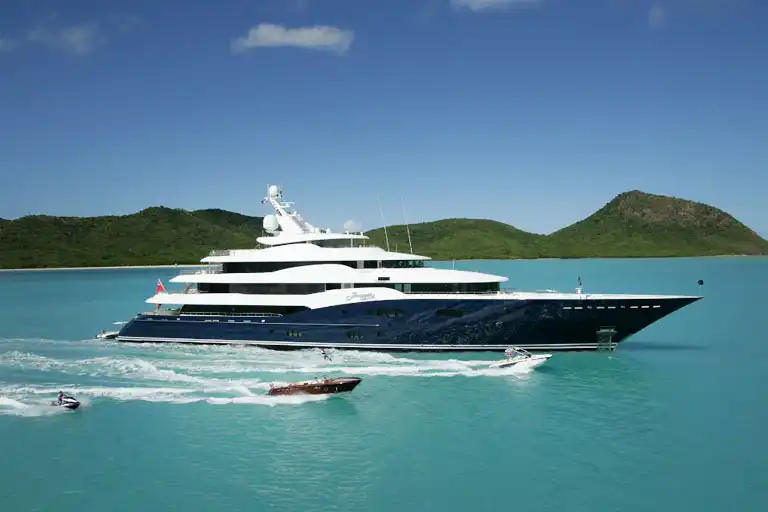 ABEKING 255ft
Year: 2011
Guests: 12 in 6 cabins
Length: 255ft (78.3m)
Amenities: Reymond Langton design, accommodation for up to 12 guests including an owner deck with a private terrace & VIP suite on the main deck, 5 m pool, beach club with gym and spa facilities, stabilizer, good cruising speed at 14 knots.
Weekly rate: from €770,000 + expenses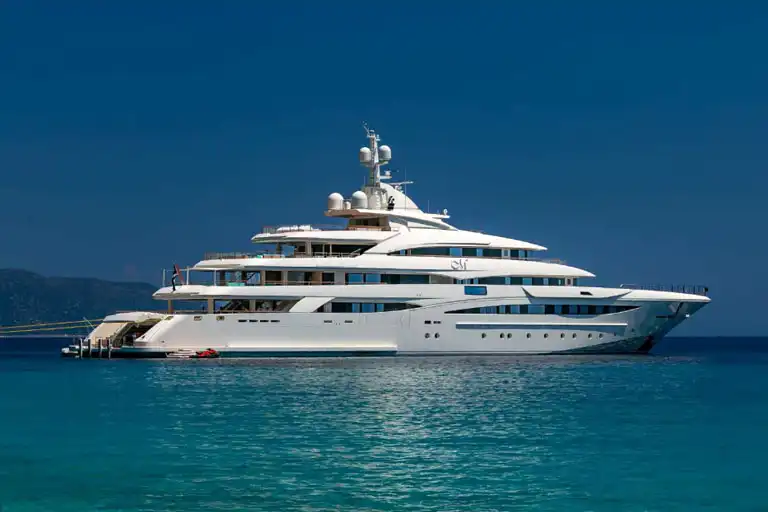 CRN 259ft
Year: 2019
Guests: 12 in 11 cabins
Length: 259.2ft (79m)
Crew: 24
Amenities: Laura Sessa design, dedicated Owner's deck, jacuzzi, hammam, massage therapist, elevator, stabilizer at anchor and underway, YET vessel, generous beach club with bar, large selection of water toys, Silver crew.
Weekly rate: from €900,000 + expenses
Best luxury yacht charter interiors
Indulge in luxurious personalized yacht interiors that blend comfort, natural elegance, and functionality. Enjoy premier charters with high-end features created by world-renowned designers.
FERRETTI NAVETTA 92ft
Year: 2013
Guests: 10 in 5 cabins
Length: 92ft (28.32m)
Crew: 5
Amenities: her interior designed by Eric Kuster exudes refined comfort and elegance, stabilizer at anchor and underway, maxi beach club, good selection of water toys, and a private Jacuzzi.
Weekly rate: from €70,000 + expenses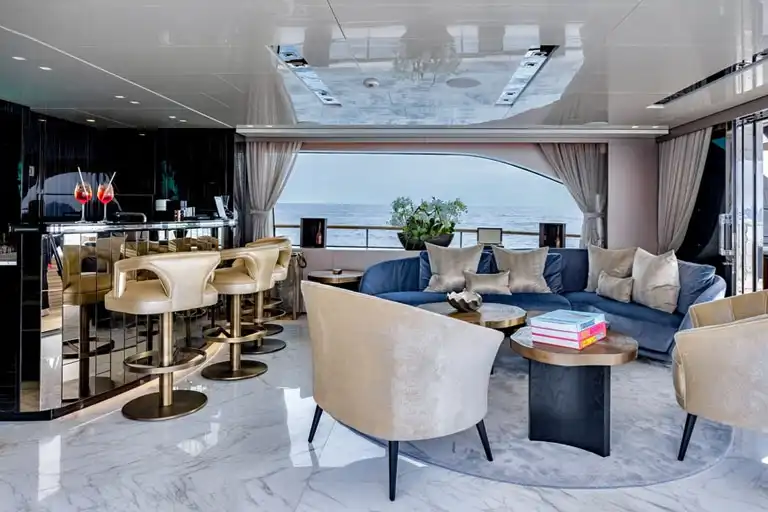 NEW YACHT – SAN LORENZO 118ft
Year: 2022
Guests: 9 in 4 cabins
Length: 117.3ft (35.65m)
Crew: 7
Amenities: Art-Deco-inspired interior by Patricia Urquiola, full beam Owner's suite, sundeck jacuzzi, her swim platform converts into beach club, jet-ski, Seabob, exterior bar.
Weekly rate: from €125,000 + expenses
Inquiry
Our website features only a limited selection of yachts. Contact us for more options and availability.
T: +33.(0)6.62.46.59.91
Contact us
Sustainable yacht rentals
Join the eco-friendly wave with our new yachts for charter that offer safety and privacy without compromising luxury. These vessels are perfect for those looking to indulge responsibly.
These vessels boast low fuel consumption due to their lightweight carbon construction and optimized hulls, while the crew prioritizes environmental conservation.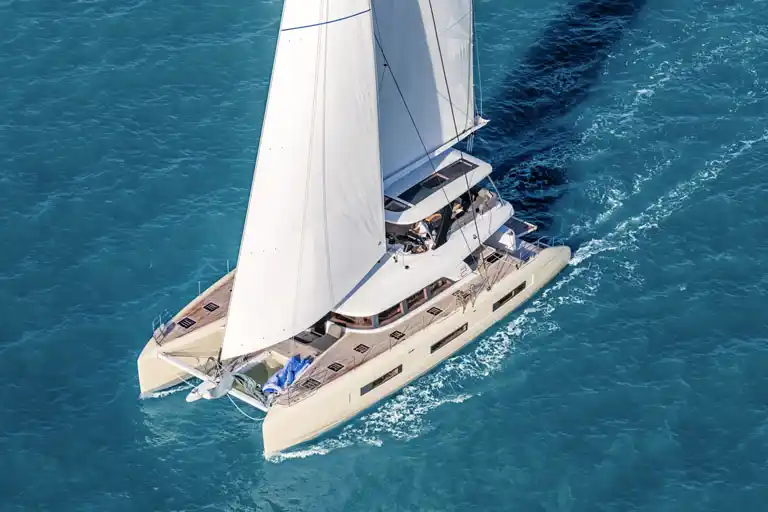 NEW YACHT – LAGOON 65ft
Year: 2023
Guests: 8 in 4 cabins
Length: 65ft (20.55m)
Crew: 4
Amenities: shaded flybridge for dining, a 42ft chase-boat, a hi-lo swim platform, and comes with a crew of 4, including a Bocuse-trained chef. Seabob, Kite, and Kayak, sound system.
Weekly rate: from € 55,000 + expenses
How to choose the right yacht for charter
Consider your specific needs when selecting a yacht for your French Riviera charter. Are you looking for adventure or a peaceful exploration?
Consult our experts for local insights to tailor the experience to your preferences.
Make an informed choice by answering the following questions:
Have you already set your date?
Are you open to date flexibility?
Do you have a general itinerary?
How many people will you accommodate on board?
Which cabin layout do you require?
What is your overall budget?
What specific amenities are you looking for?
What level of service do you anticipate?
Need help?
Feel free to speak to our experts for personalized advice and exemplary service.
Whether you're interested in water sports activities, a unique beach club adventure, or a gourmet cuisine experience, we're here to help.
T: +33.(0)6.62.46.59.91
Contact us
What to expect
Discover how we craft tailor-made experiences to meet your specific desires, whether you're a food connoisseur or an adventure seeker.
A luxury yacht charter in southern France is not a one-size-fits-all experience; it's a personalized journey designed just for you and your loved ones.
Culinary delights: gourmet experiences
Indulge in a culinary journey as you enjoy personalized menus featuring world-class cuisine. Many yachts come with a chef who is trained in some of the best Michelin-starred restaurants.
Prepared by your private chef according to your preferences, each meal is an event in itself, whether you're dining on the deck overlooking the Mediterranean or enjoying a romantic dinner in a secluded cove..
Adventure and exploration: discover hidden gems
The French Riviera offers many exploration opportunities for those who thirst for adventure.
Dive into crystal-clear waters of the Lérins islands to explore vibrant marine life in Porquerolles Island, or hike through unspoiled Mediterranean nature at la Bastide Blanche to discover hidden gems that most tourists never see.
The most adventurous can dive a submarine wreck – le Rubis – near Saint-Tropez.
Spa treatments and wellness
If relaxation is your ultimate goal, our super yachts offer a range of spa treatments designed to rejuvenate both body and mind. From massages to beauty treatments, you can indulge in a wellness experience while floating on the azure waters of the Côte d'Azur.
Water sport activities
Our yachts are equipped with various water sports activities for the more energetic charter.
From jet skiing in Pampelonne to submarine experience, from JetLev acrobatics to leisure paddling around the Cap d'Antibes, these activities add an element of excitement and adventure to your luxury yacht rental.
Select a yacht type
Once you have your preferences and requirements, it is time to find a yacht charter.
Here is a quick guide to the advantages and disadvantages of each type of yacht:
Motoryacht
Advantages
Motor yachts offer good cruising speed, space, and many amenities. They are versatile and offer a comfortable and lavish setting for your voyage.
They also offer more comfort at sea thanks to stabilizers (gyrostabilizer and/or zero-speed).
Disadvantages:
While motor yachts offer speed and luxury, they come with a higher weekly price tag and fuel costs – especially for fast open yachts – and generally leave a larger carbon footprint than sailing yachts.
Sailboat (monohull)
Advantages
Sailing yachts offer an eco-friendly, authentic sailing experience. They are generally quieter and have lower operational costs.
Disadvantages:
Sailing yachts are slower than motor yachts and offer less space for a similar length. Your sailing experience may also be weather-dependent.
Catamaran
Advantages
Catamarans are known for their stability and comfort. They offer spacious decks and cabins with a shallow draft, allowing closer beach access.
Disadvantages:
Catamarans are generally slower than motor yachts and may not perform well in rough seas. Their wide beam can also limit marina options (berth price and availability in peak season).
*: APA stands for Advance Provisioning Allowance, covering fuel, food, and other expenses during a yacht charter.

Expert advice
Remi van der Deure, Senior Charter Broker in Antibes, says:
" When selecting a yacht, it's crucial to evaluate the crew as much as the vessel. Avoid getting entangled in the latest technology or technical details. Instead, talk to our charter broker, who can help you find the perfect fit and ensure a personal experience. "
Contact Remi
T: +33. (0)6.62.46.59.91
Cost of a private yacht charter
The cost of renting a yacht in the South of France is influenced by a blend of factors such as the yacht's age and pedigree, type, equipment, and length, as well as the charter duration and contract type, which can affect VAT rates ranging from 0 to 20%.
Typically, commercial yachts in the French Riviera are rented on a "plus expenses" basis, adhering to MYBA* terms. Alternatively, some commercial yachts can be rented under ECPY*** terms.
Here is a breakdown of weekly prices to help plan your Mediterranean escape.
1. Motoryacht <= 100ft
Charter fee: from €20,000 to €160,000 for recent Sunseeker or Azimut luxury vessels + expenses
Expenses: APA** at 35/40% of the gross charter fee.
Insight: substantial fuel expenses may accrue on large and fast yachts such as Mangusta, AB Yacht, Pershing, and Leopard.
2. Super yacht charter >= 150ft
Charter fee: from €100,000 for 100ft Italian yachts to €1.500,000 for recent Dutch quality super yachts + expenses
Expenses: APA at 30/35% of the gross charter fee.
Insight: contrary to general belief, fuel costs on large super yachts are relatively low.
3. Sailing boat charter
Charter fee: from €30,000 for newer 100ft sailing yachts to €350,000 for super yachts such as Perini + expenses
Expenses: APA at 30% of the gross charter fee.
Insight: the APA is typically 30% of the gross charter feet on sailing boats due to low fuel expenses.
4. Catamaran rental
Charter fee: from €20,000 for 50ft Lagoon to €250,000 for luxury multihulls + expenses
Expenses: APA at 35% of the gross charter fee
Insight: the cost of mooring a large sailing catamaran is substantial, comprising regular expenses and a 40/50% premium.
*: MYBA stands for Mediterranean Yacht Brokers Association. Most commercial yachts on the Riviera are still rented under MUBA terms.
**: APA stands for Advance Provisioning Allowance
***: ECPY stands for European Committee for Professional Yachting.
What's included in the charter fee (MYBA terms)?
Under MYBA terms, the charter fee encompasses the yacht and all its equipment—from spa facilities to water toys to entertainment systems—the crew's wages and food, the ship's laundry, operating consumables, and insurance coverage for both the yacht and crew.
What's included in the expenses (MYBA terms)?
These expenses cover fuel, food, beverages, mooring fees, private marina fees, visa fees, if applicable, harbor fees, park fees, and taxes.
The APA excludes the delivery fee and security deposit, if applicable.
How to book your yacht charter
Booking your crewed yacht charter with Charterminute is straightforward. Here's a step-by-step guide to navigating the rental process:
a. Initial inquiry and consultation
Your journey begins with an initial inquiry, where you'll discuss your specific needs and preferences with one of our expert brokers. This is the time to ask questions and clarify doubts about the charter experience.
b. Yacht selection and quotation
Based on your requirements, we will provide yachts that meet your criteria. You will receive a detailed recommendation, including price, crew services, meals, and onboard amenities.
c. Contract and payment
After you have chosen your preferred yacht, you will receive a charter agreement, such as MYBA or ECPY, which outlines the terms and conditions of your charter. We offer multiple payment options, including wire transfers and credit cards, to ensure your convenience.
d. Pre-departure preparations
Before departure, you can finalize your itinerary and discuss any last-minute requests or changes to ensure everything is in place for your luxury southern France yacht experience.
French Riviera itinerary
Here are just a few sample charter itineraries. These will be customized and detailed based on your preferences, yacht selection, and points of interest:
3-day whirlwind tour of Cannes, Monaco, and Saint-Tropez
7-day grand journey featuring Antibes and Nice, and the Lérins Islands
10-day exploration charter, including the Golden Islands of Port Cros and Porquerolles
12-day adventure that takes you to the sandy beaches of North Corsica.
French Riviera map
Discover the distance between Cannes, St. Tropez, and Monaco by boat.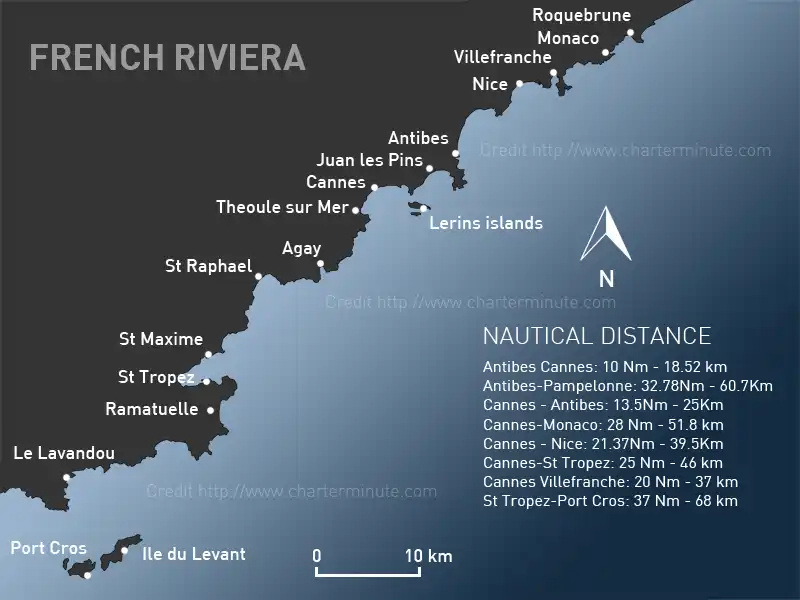 Click the map to enlarge.
Expert tips for a memorable yacht charter
Make the most of your yacht charter party with our professional advice:
1. Selecting the right yacht type
A comfortable displacement yacht won't cover the same distance as a swift Italian sports yacht like a Pershing or Leopard: plan your itinerary accordingly with the aid of your charter broker.
Average cruising speed of a displacement yacht: 12-15 knots
Average cruising speed of a fast sport yacht: 22-30 knots
2. Choosing a charter style
Determine whether you prefer a leisurely or action-filled adventure on a yacht equipped with many water toys and exploratory amenities.
This will help pinpoint the type of yacht, crew profile (energetic young crew, crew offering a more formal service…), and itinerary that aligns with your desires.
3. Crafting a flexible itinerary
Stay informed about seasonal weather and local regulations (e.g., the French Riviera has stringent anchoring regulations).
However, flexibility is vital. Unpredictable weather and unforeseen delays can arise: adaptability ensures a smooth experience.
Remi van der Deure, Senior Charter Broker in Antibes, notes: "Be aware that Pampelonne can be windy. It's not uncommon to find yourself unable to disembark or re-embark at your yacht or beach club. In such scenarios, taking a taxi back to the port of St-Tropez may be necessary."
4. Assessing the overall expenditure
When planning your charter itinerary, budget consideration is crucial.
Have a clear understanding of your spending capacity for the trip. If chartering a fast sports yacht like a Mangusta 108, be aware of the hourly fuel costs.
For instance, on a prominent sports yacht like the Mangusta 130, the hourly fuel costs can be substantial, averaging around 1,200 liters per hour at Euro 2 without detax.
This knowledge will aid in making an informed decision to match the type of yacht and your itinerary without overstretching your budget.
5. Selecting the ideal yacht layout
Consider the size and layout of a yacht based on the age and number of your guests.
Ensure the yacht's overall layout caters to your guests' needs.
For example, if chartering a yacht with elderly individuals who may struggle with stairs, ensure the yacht has an elevator or at least poses no significant challenges for those with limited mobility.
Conversely, if traveling with children, consider a yacht with a bedroom equipped with a nanny's cabin.
6. Communicating effectively with crew
Clear communication is indispensable. By the way, does your crew speak your language?
Remi van der Deure, Senior Charter Broker in Antibes, advises: "Take the time to fill out your preferences sheet, ask questions, and specify your needs for unique cuisine or a birthday celebration. The more detailed your wishes, the more personalized your experience will be."
7. The importance of pre-booking
During peak season, advance bookings for trendy restaurants like Club 55 in Pampelonne or la Guerite in Cannes, water toys, and bespoke visits ashore are recommended.
Note that high-end restaurants on the French Riviera may levy substantial cancellation fees for last-minute cancellations.
8. Selecting activities and points of interest
Align your activities with your guests' interests. Whether beach relaxation or cultural exploration, your itinerary and activities should cater to all preferences.
Craft a bespoke charter itinerary
For a memorable getaway, contact us to craft your custom itinerary.
Contact us
T: +33.(0)6.62.46.59.91
Top 3 reasons to hire a yacht on the Côte d'Azur
Short DistanceS
Relish seamless cruising on the French Riviera, where hot spots like Cannes and Saint-Tropez are merely 1 hour and 30 minutes away by motor yacht.
This proximity makes the South of France ideal for charters with children and the elderly who may prefer shorter cruises.
SERENE waters
Bask in the tranquility of calm seas and sheltered areas such as the secluded bay of Villefranche-sur-Mer or the Gulf of Saint-Tropez. The South of France is perfect for charters, even those prone to seasickness.
DIVERSE experiences
Delight in luxury, sophistication, gourmet cuisine, rich historical heritage, and pristine Mediterranean nature: there's something for everyone.
French Riviera weather
What is the best time to enjoy a luxury charter?
June and September are prime for a private yacht charter, offering a balance between rates, activities, weather, and crowds, notwithstanding the allure of July and August.
Best anchorages of the Riviera*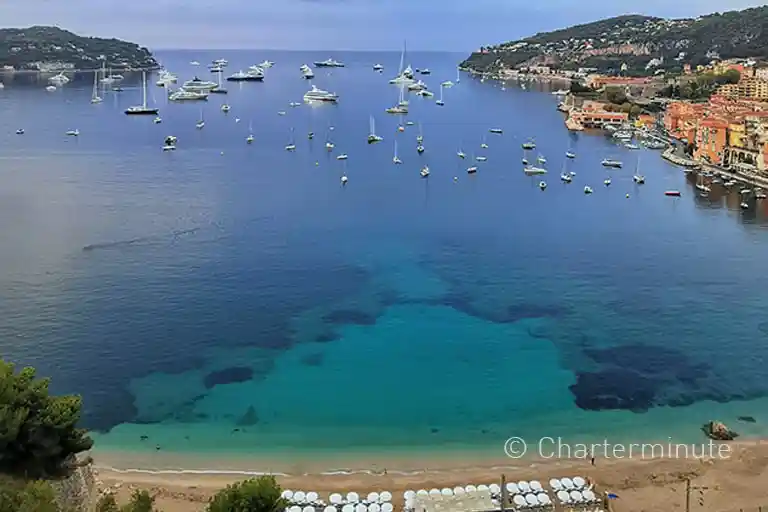 *: Please note that yachts longer than 24 meters overall are banned from close mooring in certain coast areas to prevent overcrowding and protect Posidonia seagrass.
Riviera yacht charter must-sees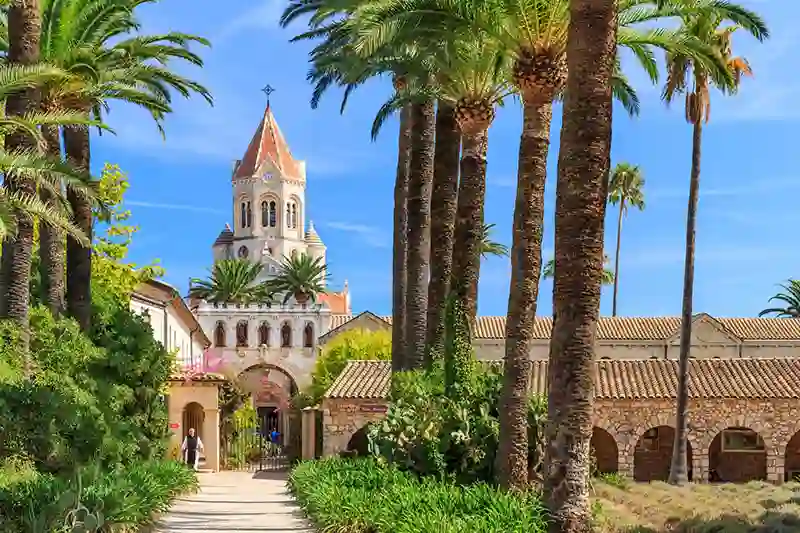 The Lérins Islands, Cannes
Don your snorkeling gear and explore the captivating underwater sculpture museum near Sainte Marguerite Island.
Discover life-size statues of musicians submerged below the surface—perfect for photos and accessible to children!
Enjoy a stroll through the vineyards and pine trees of St-Honorat Abbaye, and perhaps purchase a bottle of Lerina brandy, crafted by the active monk community residing on the island since the fifth century.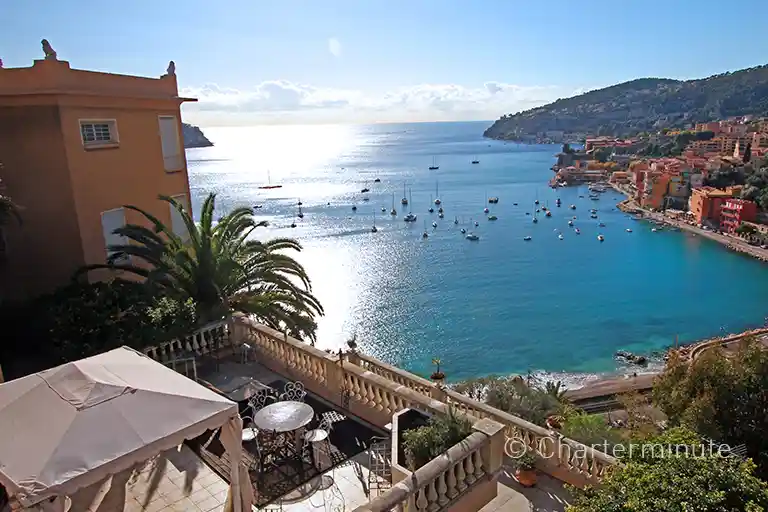 Villefranche sur Mer, Monaco
Experience the majestic Bay of Villefranche-sur-Mer by boat and uncover its authentic Mediterranean charm.
Known for its secluded pebble beaches, lush vegetation, and numerous rocky coves, this bay presents a unique landscape ripe for exploration by kayak or paddleboard.
Admire quaint villas and savor delicious cuisine at renowned seaside restaurants frequented by locals, such as Mère Germaine.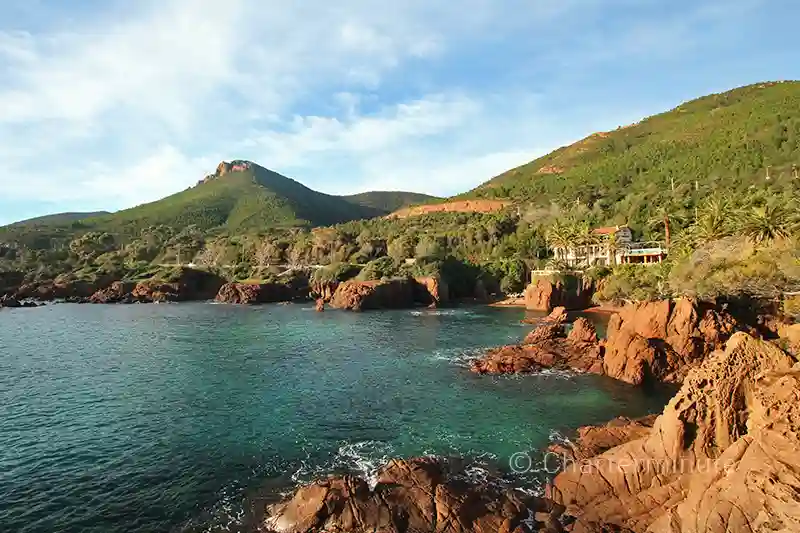 Esterel Coast, Saint-Tropez
Cruise along the coast to St Raphael to uncover hidden gems like the Maison Bulle and breathtaking views of the Esterel Coast.
Paddle to secluded pebble beaches like Plage des Anglais and marvel at the volcanic red cliffs contrasting with lush greenery.
Discover the pristine nature of the French Riviera, where adventure and tranquility coexist: drop anchor near the iconic Ile d'Or.
Côte d'Azur yacht rental: points of interest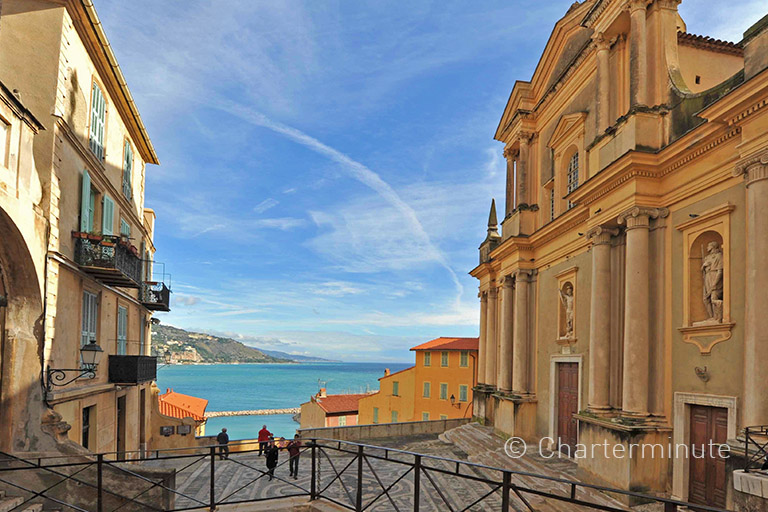 Charter Inquiry
Contact us for more options and availability.
T: +33.(0)6.62.46.59.91
Contact us
Customer reviews, client testimonials
Discover genuine feedback from our satisfied clients who have experienced Charterminute's services over the past few years.
These authentic testimonials offer real insights into the quality and value we provide.
" We had a parasailing boat and a water toy company join us halfway through the day. Remi coordinated everything with ease, and the day charter itself was perfect. He could not have been more helpful or responsive. "
Rosemarie F. – private client, UK, 2023
" I can 100% recommend Charterminute and Remi. They have my full trust, and we have just held a Cannes team-building day organized by Remi (for 20 guests on a maxi-catamaran Lagoon); everything was perfect. "
Ole H. – Corporate client, Norway, 2022
Charterminute: the 5-star yachting company on TripAdvisor and Google Reviews.
Contact us today
Ready to embark on the journey of a lifetime?
Contact our team of experts today.
We're here to help you find the perfect yacht, plan your itinerary, and ensure flawless every aspect of your French Riviera yacht charter.
Enquire
T: +33.(0)6.62.46.59.91
Complete yacht charter FAQs
Expert answers and guidance about French Riviera crewed yacht charters.
Related resources
Essential French Riviera Islands to visit
Corsica yacht charter
Please note that this document is not contractual. The yacht charters and their particulars displayed in the results above are presented in good faith and, while believed to be correct, are not guaranteed. Charterminute does not warrant or assume any legal liability or responsibility for the accuracy, completeness, or usefulness of any information and/or images displayed. All information is subject to change without notice and is without warranty.
Contact us for the most up-to-date information.
Updated on October 10, 2023
---