Guide to Cannes boat rentals
Explore THE BEST OF THE French Riviera by boat
Discover the unspoiled beauties of the Côte d'Azur.
Rent a boat in Cannes to explore its scenic coastline and the Lérins Islands. Enjoy a chic beach club experience at Club 55 or Bagatelle in Pampelonne.
From affordable family boat rentals to luxurious yacht charters, browse our small selection to escape the Riviera bustle on the water with a crewed boat charter.
Cannes boat rental selection
*: Day rates include an 8-hour charter, a qualified skipper, French VAT at 20%, soft drinks, and towels.
Need help?
Our website features only a limited selection of yachts. Contact us for more options and availability.
T: +33.(0)6.62.46.59.91
Contact us
Why rent a boat in Cannes?
Rediscover the hot spots of the Riviera
Explore beautiful destinations such as Cap d'Antibes, serene Lérins islands, and charming Villefranche sur Mer.
Enjoy a unique EXPERIENCE
Personalize your boat charter to explore the Riviera's best spots for a VIP experience.
Escape the coastal crowds
Find your private paradise aboard one of our top-tier yachts. Experience seclusion and relaxation, accessible only by boat.
Type of boats you can rent in Cannes
Choose from a range of stylish boat rental options, from family-friendly motor boats -Jeanneau Prestige, Beneteau Monte-Carlo…) to luxurious motor yachts (Azimut, Riva, Sunseeker…) designed for an unforgettable French Riviera voyage.
| YACHT TYPE | MAX. GUESTS | DESCRIPTION |
| --- | --- | --- |
| Powerboat | 11 | Boat rental with a skipper, perfect for comfortably touring the area without breaking the bank. |
| Sailboat | 11 | Feel the wind in your hair as you sail with a skipper; suitable for groups of friends and family. Limited availability. |
| Catamaran | 200 | Up to 200 guests – Beamy boats, spacious sunbathing deck space, perfect for boat parties and family trips. |
| Yacht | 12 | Luxury motor yacht offering a good selection of water toys and top-notch service. |
| Superyacht (40m+) | 12 | Not available for day charter in high season. |
*: high season: July and August
Amenities to expect
Your Cannes boat rental will typically include:
Soft drinks
Comfortable seating, sunbeds, and a swimming platform
Sun awning
Towels
Shower and restroom
Snorkeling gear
Paddleboard or Kayak (for boats over 40ft)
Fridge (and icemaker on a mid-size yacht)
Speakers to listen to your favorite music (cable or Bluetooth connection)
Safety equipment such as life jackets
Upon request, additional services such as alcohol provision, catering, and water toys like jet skis, kayaks, and electric surfboards are available.
looking for a Cannes boat trip with more than 12 guests?
For parties exceeding 12 guests, consider our eco-friendly maxi-catamarans that can host up to 200 people.
Large group boat rental
T: +33.(0)6.62.46.59.91
How to book your Cannes boat rental
Booking your boat rental with Charterminute couldn't be easier. Here's a step-by-step guide to walk you through the rental process:
Select the Date: Determine your flexibility.
Choose the Boat: Based on preferences, passenger count, and budget.
Contact Us: Via email or phone.
Inclusions: Ask about Captain/Crew, fuel costs, and boarding fees.
Itineraries: Discuss dining options and water toys.
Terms: Read all rental terms and conditions carefully.
Cost of renting a boat in Cannes
What's included
Here's a rough breakdown of day rates for different yacht types:
| YACHT TYPE | DAY RATE |
| --- | --- |
| Powerboat – 40-50ft | From €1,950 to €3,500, ideal for affordable boat tours in the Cannes area. |
| Sailboat – 57ft | From €1,900, with limited availability, suitable for local boat tours. |
| Catamaran – 56ft | From €4,200 for 16 guests, perfect for large groups. |
| Yacht – 60ft and more | From €4,500 and more, offering a luxurious private yacht charter experience. |
*: High season day rates including qualified skipper/crew, VAT at 20%, 8 hours yacht rental, soft drinks, and towels. Fuel, alcohol, and food on top.
What's not included
| ITEM | DESCRIPTION |
| --- | --- |
| Fuel | It's always a good idea to ask for an estimated fuel cost before booking a day charter in southern France due to high fuel costs. |
| Crew tip | Remember to tip 10-15% for good service. |
| Alcohol and food | Can be purchased based on your preferences. A small delivery fee may apply. |
| Taxes | Local taxes, boarding and/or passenger fees for a large group, tip for pontoon or transfer guy. |
Tips for a successful yacht charter in Cannes
Timing is Everything: book early to secure your dream yacht, especially during the high-demand peak season in July and August.
Choose Wisely: opt for a yacht that comfortably accommodates your group to ensure a luxurious experience.
Know the Ropes: familiarize yourself with yacht charter etiquette for a smooth sailing experience.
Ports of Call: be aware that Cannes has two ports—Port Canto and the Old Port. Confirm your boarding location in advance.
Pack Smart: bring cash, sunglasses, copies of IDs, hats, sunscreen, and any special gear you might need.
Weather Watch: always consult weather updates before setting sail to plan your journey accordingly.
Know Before You Go: familiarize yourself with your rental's guidelines, limitations, and cancellation policies.
Best time for a Cannes boat trip
Although the French Riviera benefits from 300 sunny days and a mild climate, the best time for a Cannes boat trip is in June or September when the sea water is 19-21°C and the air temperature is 25-27°C.
Explore beyond Cannes
The city of the Film Festival, a playground for the rich and famous, is known for its fine sandy beach along the Boulevard de la Croisette, high-end shopping, and 5-star hotels.
Yet, beyond the glitz and glamour lie two islands of exceptional charm, offering pristine beauty, secluded pebble beaches, and untold stories.
1. Cannes boat tour: 3 sights that are a must-see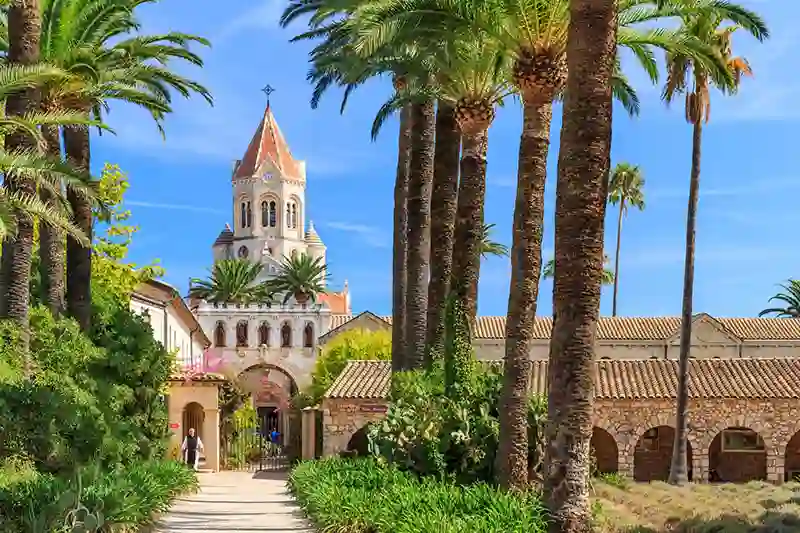 The Lérins Islands
Don your snorkeling gear and dive into the fascinating underwater sculpture museum near Sainte Marguerite Island.
Discover lifesize statues of musicians submerged below the surface – great for photos and accessible to the children!
Take a leisurely walk through the vineyards and pine trees of St-Honorat Abbaye and purchase a bottle of Lerina brandy, made by the active monk community living on the island since the fifth century.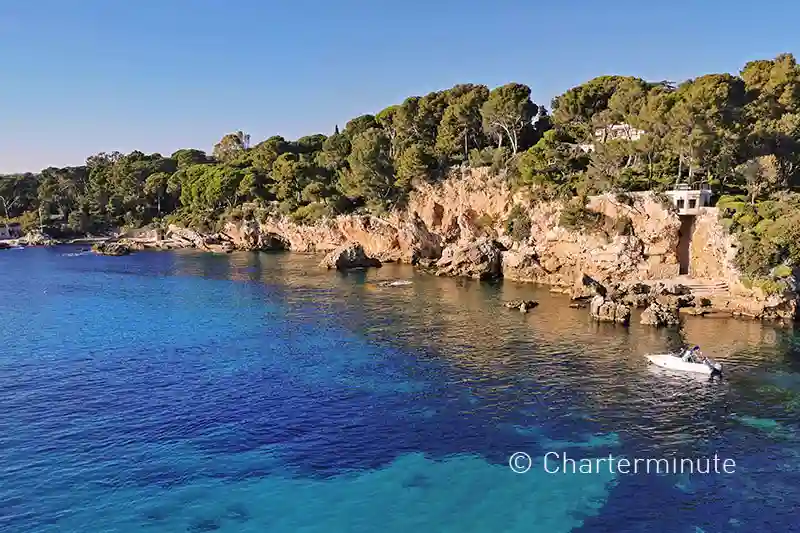 Cap d'Antibes, Bay of Billionaires
Set sail for the picturesque beach of La Garoupe, nestled between stone trees and red rocks.
Dive into the crystal clear waters for a refreshing swim before enjoying a delicious lunch at one of the local family restaurants (Plage Keller).
As you relax on deck, you'll cruise past sprawling mansions that symbolize the luxury and opulence of the Belle Epoque era, with mega yachts anchoring near the famed Bay of Billionaires.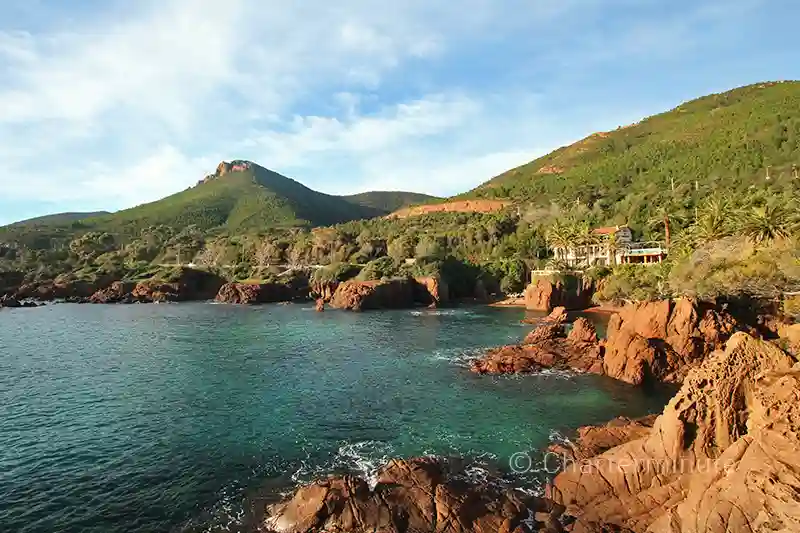 Hidden Gems of the Esterel Coast
Cruise from the Old Port to St Raphael to explore hidden treasures such as the Maison Bulle and breathtaking views of the Esterel Coast.
Paddle to secluded pebble beaches like Plage des Anglais and marvel at the volcanic red cliffs contrasting with lush greenery.
Experience the natural splendor of the French Riviera. Anchor near the renowned Ile d'Or for a perfect blend of adventure and relaxation.
2. Cannes yacht charter: points of interest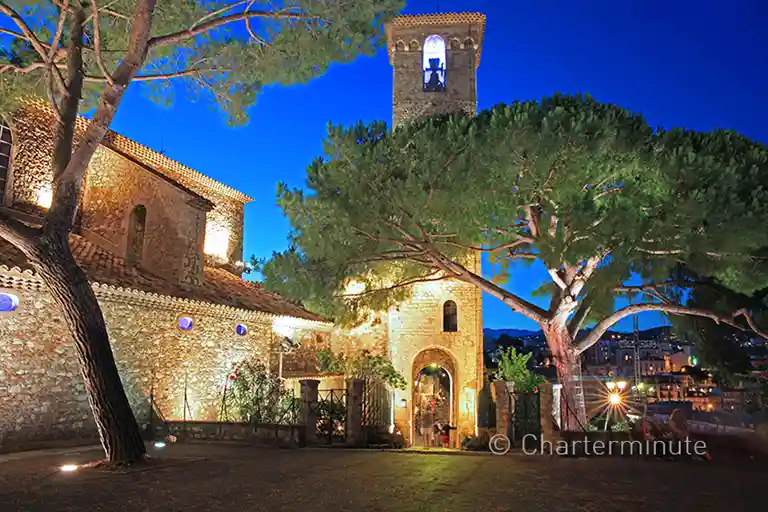 3. Popular yacht charter destinations from Cannes
Embarking from Cannes Port Canto or Cannes Old Port in the morning, you have three main boat trip options:
Local tour: Lérins Islands and Cap d'Antibes
Explore the sheltered Lérins Islands, including Ste-Marguerite and St-Honorat, and experience the charm of Cap d'Antibes. Your skipper will guide you to hidden treasures based on the prevailing winds and conditions.
Villefranche sur Mer, Beaulieu – 1 hour boat trip
This boat trip is highly sought after for its stunning coastal views of Cap d'Antibes, top-notch dining options like Paloma Beach, and tranquil waters with beautiful anchorages in the Bay of Villefranche sur Mer.
Cannes to St Tropez – 1 hour 30 boat trip
The charming St-Tropez fishing village and the beautiful 4.5 km sandy beach of Pampelonne, just a 30-minute boat ride away, are highly sought-after summer destinations.
One of the highlights of this journey is the opportunity to anchor near the famous Ile d'Or, a small island with a tower surrounded by clear waters. It's a moment of tranquility and connection with the unspoiled nature of the French Riviera.

Where to dine during your Cannes boat trip
Charterminute provides a fulfilling luxury boat rental experience in Cannes. We utilize our expert local area knowledge to introduce you to authentic Riviera culture, off-the-beaten-track hot spots, and hidden gems of the Côte d'Azur.
Top pick: Lunch at Plage Keller – Cap d'Antibes
Plage Keller in Antibes is a Riviera gem, offering a private beach with a restaurant and a more formal panoramic restaurant (Le César) with stunning sea views. The location is idyllic, the service attentive, and the Mediterranean cuisine delectable. Perfect for both tranquil getaways and special events. A must-visit!
Tender service available.
T: +33.(0)4.93.61.33.74
Lunch at La Guerite – Ste-Marguerite
La Guérite restaurant is the only restaurant on Sainte Marguerite island, nestled in 3,500 square meters of protected nature, just below the Castle of the Iron Mask. It offers a private beach, expensive dining, music, and a breathtaking view over the entire bay of Cannes.
Book far in advance.
Tender service available.
T: +33.(0)4.93.43.49.30
Lunch at La Tonnelle – St-Honorat
La Tonnelle on Saint-Honorat Island is a family-friendly restaurant with a gorgeous waterfront location. The Mediterranean-inspired menu and friendly staff make this a great spot to enjoy stunning views of the Sainte-Marguerite island.
It is recommended to book in advance during the peak season.
Tender service available.
T: : +33.(0)4.92.99.54.08
Off the beaten track: enjoy the best ice creams
Nestled in the heart of Cannes, a stone's throw from the Old Port, Niva is a gelato haven for locals and tourists alike.
Open all day and well into the late hours of the night, this artisanal Italian ice cream shop offers a curated selection of flavors that are nothing short of divine. The pistachio ice cream and yogurt are a must-try after an extensive boat trip while sitting on the terrace overlooking the Old Port.
Niva: 75 rue Felix Faure, Cannes
Pizza boat
Discover the Cannes Pizza Boat, a one-of-a-kind culinary adventure anchored near the Lerins Islands. This transformed catamaran serves up delicious pizza, making it a hit among boaters and kids alike.
Catapizza.fr
Customer reviews of Cannes boat rentals
Learn why our private clients highly regard our tailored yacht charters.
" We had a parasailing boat and a water toy company join us halfway through the day. Remi coordinated everything with ease, and the day charter itself was perfect. He could not have been more helpful or responsive. "
Rosemarie F. – private client, UK, 2023
" I can 100% recommend Charterminute and Remi. They have my full trust, and we have just held a Cannes team-building day organized by Remi (for 20 guests on a maxi-catamaran Lagoon); everything was perfect. "
Ole H. – Corporate client, Norway, 2022
Charterminute: the 5-star yachting company on TripAdvisor and Google Reviews.
Cannes yacht charter FAQ
Guide for an enjoyable Côte d'Azur boat trip.
Related resources
---