Cannes corporate yacht rental
Take your Cannes event to the next level
Cannes, freshly refurbished, has solidified its reputation in 2023 as a prime destination for successful business events. According to Forbes, Cannes is France's second-largest trade show hub, making it ideal for corporate yacht rentals.
Opting for a corporate yacht rental during major events like the MIPIM, or the TFWA can significantly elevate your brand's visibility, and offer an unparalleled networking platform.
Discover our solutions for your next event and make the difference by choosing luxury and exclusivity.
Exploring Cannes corporate yacht charters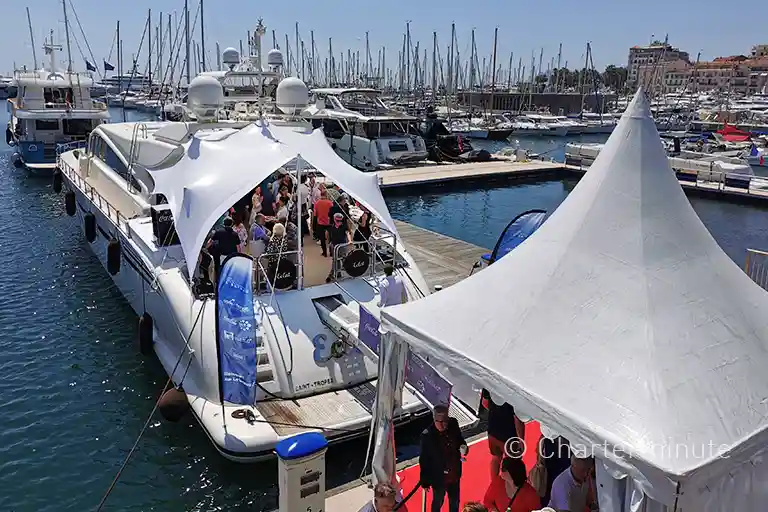 Experience the luxury of a yacht charter with our exclusive motor yachts, ranging from 20 to 60 meters.
To guarantee a flawless and memorable experience, you can count on an attentive crew to cater to your guests' needs, and handle every detail with unparalleled expertise.
These vessels provide opulent interiors and spacious decks, ideal for hosting meetings and conferences, yacht parties, and networking with prospects and clients.
Get a free quote
T: +33.(0)6.62.46.59.91
Popular yacht charter options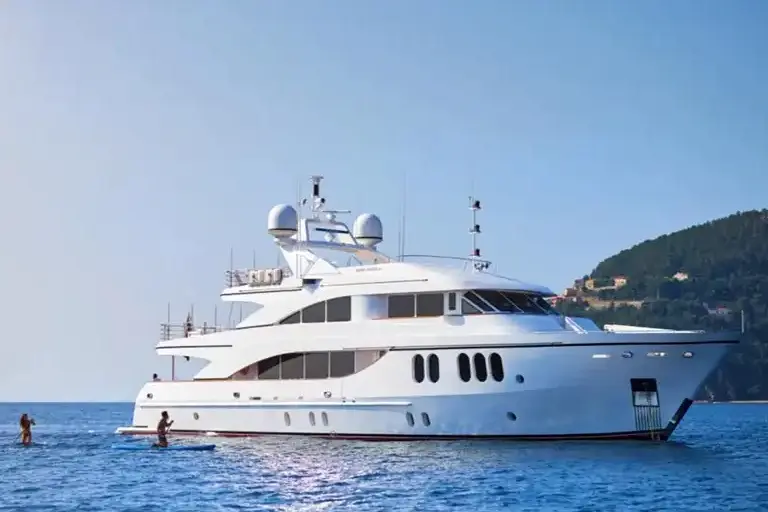 Choosing the right yacht type
Choosing the perfect Cannes corporate yacht charter is crucial for the success of your event.
To make an informed decision, it's essential to carefully evaluate the pros and cons of each yacht type available.
YACHT TYPE
ADVANTAGES vs DISADVANTAGES
Recent motor yacht
Advantages:
Multi-deck platform with plenty of space for seminars and meetings
Ability to host a large event on board, such as a yacht party or cocktail party
Luxurious interior, highest comfort
Good connectivity and AV equipment
High level of service
Disadvantages:
Overall budget
Lack of a berth for a yacht over 50 m. in Cannes
Classic motor yacht
Advantages:
Twin-deck platform with space for conferences
Ability to host an event on board, such as a cocktail party
Warm wooden interior
High level of service
Affordable yacht hire option
Disadvantages:
Less space available, potentially less natural light in cabins
Sport yacht
Advantages:
Large open-deck salon for client entertainment
Ability to host an event on board, such as a cocktail party
Trendy décor
Choice and good availability
High level of service
Disadvantages:
Less space available
Less flexibility in the layout
Expert tip to optimize your corporate charter
Are you interested in maximizing your return on investment for your French Riviera event?

Consider opting for refitted classic or vintage yachts, which are not only competitive but come with experienced crews skilled in managing large groups and special events.
Additionally, these vessels offer ample branding opportunities. Often, a well-executed branding strategy can be more impactful thanchoosing the largest or most flashy yacht.
Benefits of Cannes corporate yacht rentals
Chartering a yacht for a Cannes event offers several distinct advantages, including:
Luxury corporate yacht hospitality
Chartering a yacht offers a practical alternative to securing a hotel, especially since Cannes hotels tend to fill up quickly during events.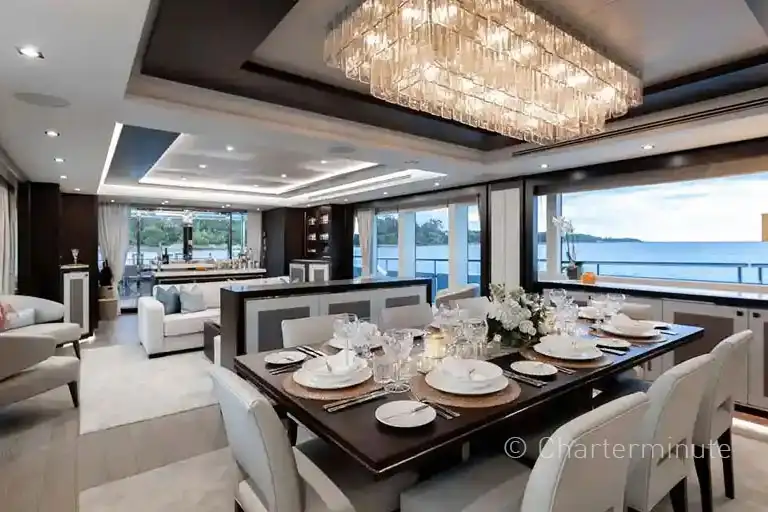 Exclusive platform
A yacht is an impressive and captivating venue for hosting evening events, parties, and dinner cruises on the Côte d'Azur.
Prime location
By chartering a yacht, you secure front-row seats to the action, especially if you obtain a berth next to the prestigious Palais des Festivals.
Enhanced brand exposure
Customized décor and branding on a chartered yacht maximize your company's visibility and impact.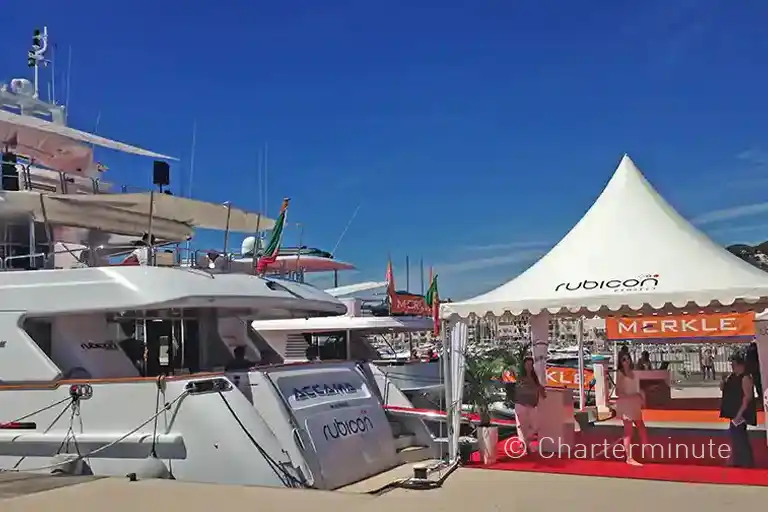 Productive and inspiring meetings
Business yacht charters foster an environment conducive to productive and creative seminars or conferences, making clients feel valued and top employees genuinely rewarded.
Planning a successful Cannes corporate yacht charter
Finding the best yacht solution for your event in Cannes can seem daunting, but it can be a breeze with the right approach. This approach ensures you'll select a venue that is not only unique but also tailored to meet the specific needs of your corporate gathering.
Start by determining the following:
Estimate the size of your group
How many people are you going to accommodate on board?
Which cabin layout do you require?
Are you going to have a big party on the yacht or a cocktail event?
Consider the maximum guests' number.
Number of guests

Most charter vessels have the capacity to accommodate numbers exceeding their cruising limitations.
Typically, charter vessels can readily host 25-30 guests for cocktail events, with many capable of simultaneously welcoming 60 or 80 guests for charter at quay.
Define your main objective
Connect and entertain new prospects
Celebrate a significant company milestone
Launch a new product
Strengthen your brand
Announce a partnership
Reward your top performers and hardworking employees
Determine the desired amenities
Do you need a spacious meeting space?
Do you require a large-screen TV for presentations?
What level of service do you expect?
Do the crew speak your language?
Are there any special security or privacy measures needed?
Here are some additional suggestions to improve your presence and enhance the experience for your guests:
SERVICE
DETAIL
Logistic
Transportation service (transfer by van from the airport, taxi boat to the Lerins Islands and Saint-Tropez beach clubs)
Additional luggage storage, Sat communication
Marketing
Customized branded décor to elevate your brand's image (food & beverage branding, signage throughout the vessel, fly logo flag…), photo booth, professional video and photography service
Entertainment
DJ, and event lighting to create the perfect mood
Dancers, flair bartenders, caricature artist, magician, custom shore excursion: from private group tour to VIP experience…
Security
Bodyguard service
Catering
Service staff, catering for cocktail parties
Expert advice for planning your corporate yacht party
Look for yachts that perfectly balance comfort, luxury, and functionality.
Choose a yacht that reflects your values and mission.
Find information about the crew's expertise and previous experience in similar events.
Read the official guidelines from the port authorities to optimize your presence in Cannes and avoid mistakes.
Seek guidance from industry experts.
Book early: it is essential to book 6/8 months in advance for major events like Cannes Lions to ensure that you get the yacht you want.
Collaborate with a local and independent charter broker to match your expectations and requirements with the perfect yacht and crew.
Always read the charter contract, and ensure you understand the cancellation policy, what's included, and what's not.
Enhance your static charter experience by combining it with corporate trips to the Lerins Islands, Monaco, or Saint-Tropez.
Want to celebrate an bespoke event on the French Riviera?
Explore our affordable corporate incentive days charters.
Corporate day charters
T: +33.(0)6.62.46.59.91
Corporate yacht rental price
Here is a typical price range table for your Cannes corporate venue:
| YACHT RENTAL TYPE | WEEKLY RATE* |
| --- | --- |
| Super yacht (150+ ft) | from €150,000 + expenses** |
| Recent motor yacht (100 ft) | from €75,000 + expenses** |
| Classic motor yacht (100 ft) | from €55,000 + expenses** |
| Sport yacht | from €60,000 + expenses** |
*: Weekly rate divided by 6 x days under MYBA terms. Included: yacht rental with crew and all equipment.
**: VAT at 20 %, berth fee, food, beverages, carpet protection, extra services/equipment
Here is the typical cost structure detail for a corporate event such as the MIPIM, or the TFWA:
Yacht charter fee, including VAT at 20% (60 % of the charter cost)
Cost of the berth
Wastewater services
Yacht protection: carpet to protect the teak deck/interior
Food and beverages for the guests based on the preference sheet
Cannes authorities administrative fee (eur 100)
Extras amenities and services such as:
Security service
Bespoke decor
Branded tent (quay and/or sundeck)
Extra furniture for the event
Marketing material
Extra staff for special events
Extra food and beverages for a cocktail party
Tip for the crew: 10% of the gross charter fee
Safety tips for corporate travelers
Safety should be paramount when visiting the Côte d'Azur, as with any travel destination.
Here are some essential guidelines to help you maintain a secure environment while exploring the city:
Vigilant belonging management: given the prevalence of pickpocketing in tourist areas (especially the Cannes Carre d'Or area),
Always keeping your belongings close to you is crucial: opt for a crossbody bag".
Leave your valuables at home" is one of travel experts' most widely asserted tips.
Don't bring large sums of cash.
Use the yacht's safe: please secure your valuables, including your GoPro, jewelry, cash, and passport, in the safe provided in your
yacht cabin. It's important to note that, like hotel staff, crew members can assist you if you are locked out of the safe.
Copy of your ID: when embarking on a journey, you must ensure safe travels and safeguard your identity. One crucial aspect is
having a copy of your ID.
Official transportation usage: for your transportation needs within Cannes, it is advisable to rely exclusively on official options like
licensed taxis or recognized bus services.
Avoid unmarked or unlicensed vehicles, as they may compromise safety and reliability.
Situational awareness: stay attuned to your surroundings, diligently observing any signs of suspicious behavior or potentially risky
situations.
Nighttime safety: if your plans take you out after dark, prioritize well-lit and densely populated areas. Steer clear of dark or isolated
locations, as they can pose security risks.
Respect local regulations and traditions: respect for the local laws and cultural customs of Cannes is essential.
Dress appropriately when visiting religious sites and strictly refrain from involvement in illegal activities.
Need help planning your Cannes corporate yacht event?
Contact us for a bespoke solution and availability.
T: +33.(0)6.62.46.59.91
Contact us
Client success story
DMG Media is an international multi-channel media company. Since the Daily Mail was first published in the closing stages of the 19th
century, its brands (DailyMail, Metro, MailOnline) have been pioneers of popular journalism.
Challenge
DMG Media wanted to create a luxury and experiential reward program to generate more engagement and drive loyalty with their most
valued clients. They opted for a 100ft+ one-week yacht charter that offered:
Luxury accommodation for 8/9 guests in 5 cabins.
Unique entertainment platform: daily trips to Monaco and Club 55 St-Tropez area with a selection of 18/25 guests were required, and large & informal relaxing spaces allowed socializing with each other outside of business hours.
Hospitality: gourmet food was prepared daily by the Chef with local products.
Solution
We selected a vintage 100ft motor yacht allowing to enhance to company presence:
Complete yacht rebranding with logo bar, bespoke furniture, and marketing bespoke materials.
Staff meeting with AV presentation in the main salon
VIP clients entertainment:
Daily trip from Cannes to Monaco and the St Tropez area with 18/25 VIP guests.
Aperitifs at anchor between the Lerins islands near Cannes
Energetic water games with various activities: kayak, jet ski with monitor, paddleboard, etc.
Live DJ on board the yacht
This long-standing client (Cannes Lions 2015, 2016, 2017, and 2018) described the event as a great success as it achieved its objectives, including many constructive customer meetings and increased staff motivation.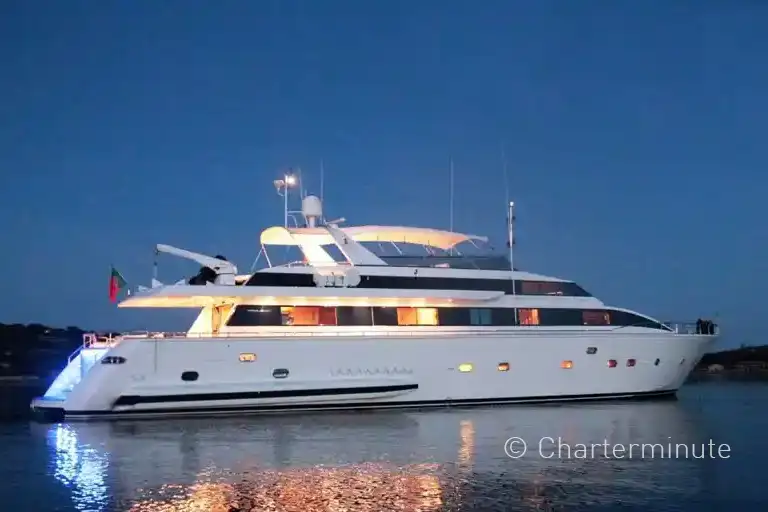 Corporate charter review
Learn why our clients highly regard our tailored event yacht charters.
" Thank you for a wonderful experience. The food and yacht accommodation were spectacular and the service was first class. We will definitely consider booking many more corporate events in Cannes with Charterminute in the future. "
Laurent D. – MIPCOM – Director, France, 2019
Need help planning your corporate yacht rental?
Contact us to create your tailored Riviera experience.
Contact us
T: +33.(0)6.62.46.59.91
Cannes corporate yacht rental FAQs
Guide to making the most of your French Riviera event.
Additional resources
---