About Charterminute
The 5-star French Riviera yacht charter company
Welcome to Charterminute, where we make your dream yacht charter vacations come true.
Based in the heart of the Côte d'Azur in Antibes (the super yacht capital), we specialize in French Riviera yacht rental services, offering you a unique way to explore amazing destinations like Cannes, Saint-Tropez, Monaco, the Golden Islands, and the unspoiled Mediterranean nature of Corsica.
Our charter services
From bespoke day charters to luxury yacht charter vacations, from large group boat rentals to corporate yacht charters for significant events, we provide a large and tailored array of options to meet the unique needs of our discerning clientele.
Our fleet selection is luxurious and eco-friendly, featuring state-of-the-art maxi-catamarans perfect for large group outings and newer yachts for sustainable vacations.
Yacht charter options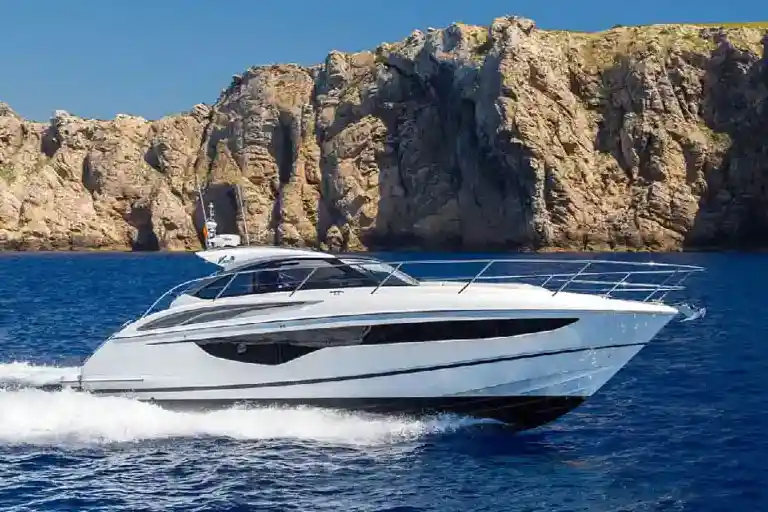 DAY CHARTER WITH CAPTAIN
Discover the French Riviera's hidden gems and hot spots with our customized day charters.
Navigate in style on motorboats ranging from 40 to 100 feet, helmed by experienced captains.
Enhance your experience with customized itineraries and add-ons such as water toys and catering services.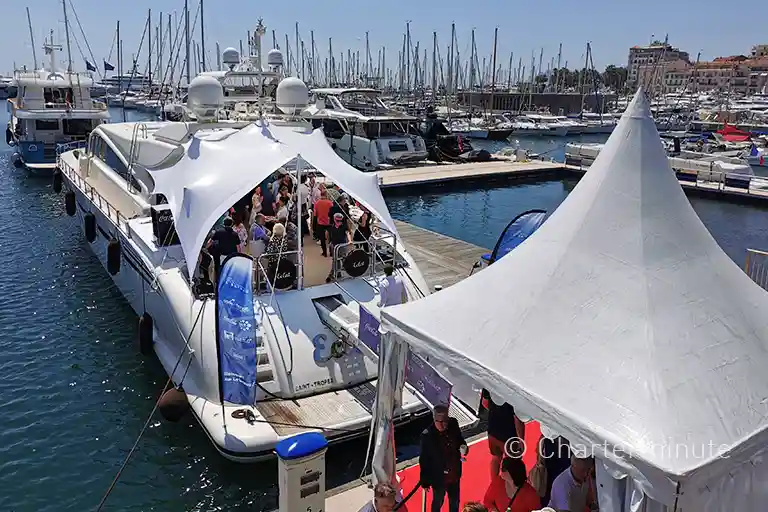 CANNES CORPORATE YACHT CHARTER
Elevate your brand in the glamorous setting of the French Riviera with a corporate yacht charter.
Docked in Cannes' historic port, our yachts offer exquisite hospitality, ideal for impactful corporate meetings and memorable evening events.
Complete the experience with custom branding to enhance your company's presence and reach.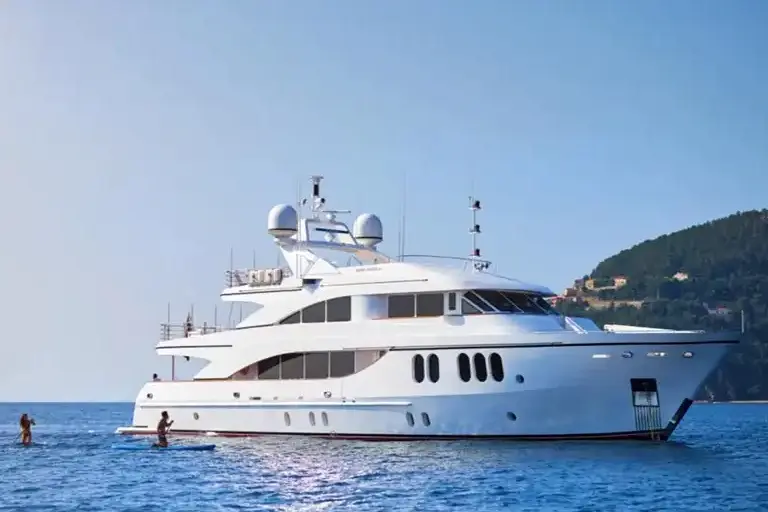 LUXURY FAMILY YACHT CHARTER
Discover the allure of the French Riviera with our handpicked selection of luxurious family yacht charters designed to offer lavish accommodation and exemplary service.
Explore pristine locations and enjoy world-class cuisine, spa treatments, and first-class amenities and services.
Seize unbeatable deals and special offers for an unforgettable family escape.
Why choose Charterminute?
Our commitment to delivering a tailored charter experience that meets – and often goes beyond- your specific needs and desires sets us apart.
Our commitment to providing fair and unbiased advice sets us apart at Charterminute, an independent yachting boutique in Antibes. We pride ourselves on not being influenced by specific yacht fleets, shipyard interests, or owner affiliations.
Combining Al technologies, in-depth expertise, genuine passion, and local knowledge, our team can help you design unique luxury yachting experiences.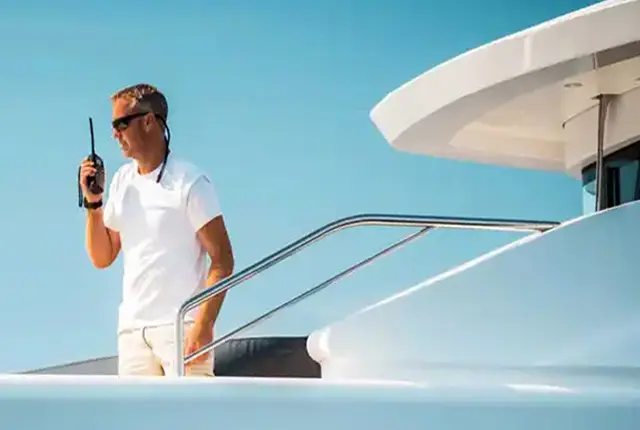 Professionalism
Drawing on years of expertise and an extensive network of contacts within the yachting industry, we provide exclusive opportunities to hire the finest boats and charter the most luxurious yachts along the French Riviera.
We are proud members of E-MYBA and ECPY, further demonstrating our commitment to excellence in the charter industry.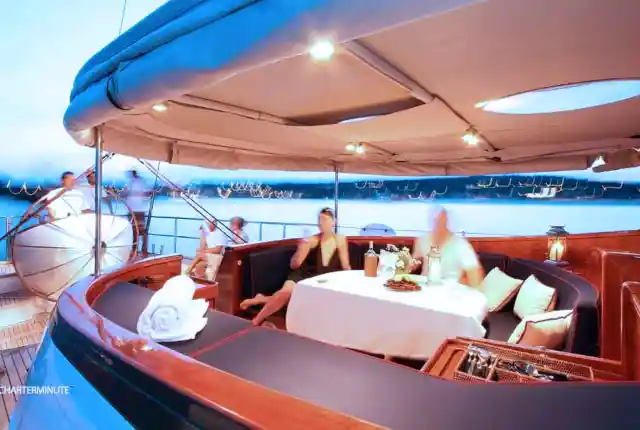 VIP EXPERIENCES
Enjoy personalized service with tailor-made itineraries and customized preferences.

Your dedicated charter broker will cater to your every need, providing a genuinely indulgent charter escape customized to meet your needs and tastes.

Gain access to private deals and last-minute special offers on opulent vessels.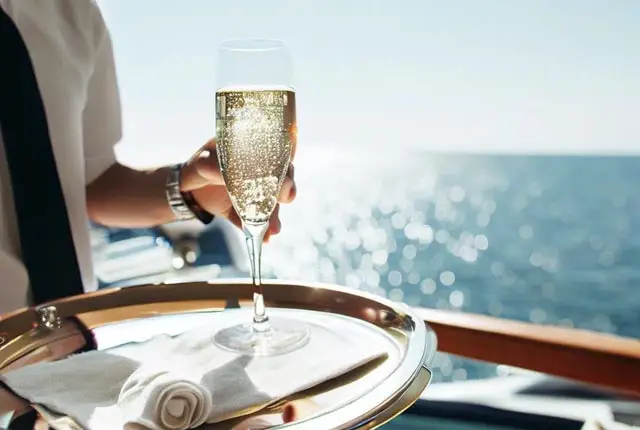 BEYOND SERVICE
Exceptional yacht rental is our specialty.
We pride ourselves on exceeding expectations with our unparalleled experience in high-end yacht services.

Our discerning clients give us rave reviews on sites like TripAdvisor and Google, providing word-of-mouth referrals serving as our best marketing form.
Sustainability efforts
We're committed to preserving the unspoiled Mediterranean nature that makes this region so unique. Our eco-friendly practices ensure that you can indulge with a minimal environmental footprint.
What makes your boat rentals environmentally friendly?
Our four new 75ft maxi catamarans built from 2020 and our selection of new yachts are a great choice for sustainable boat rentals on the French Riviera.
With hulls designed for low hydrodynamic resistance, they consume less fuel.
Maxi-catamarans: optimized composite structures reduce vessel weight by 30%, enhancing fuel efficiency.
Maxi-catamarans: PET foam made from recycled water bottles, fully recyclable, and natural fibers are used in the ship's construction.
The hybrid engines allow emission-free navigation in protected areas, supported by solar panels.
Waste water is stored for land-based treatment. Ideal for environmentally friendly day charters, corporate sunset cruises, or yacht parties in Cannes, Monaco, and the St Tropez area.
Our professional crews are extensively trained and sensitized to operate eco-friendly, prioritizing sustainability in all aspects of our yacht services.
Exclusive offers
Looking for something new?
Check out Charter-deal, our new AI-powered yacht and super yacht charter deals and special offers platform to benefit from great savings on your next luxury vacation.
Tip Top service: customer testimonials and reviews
Discover why both individual clients and corporations consistently choose our tailored yacht rentals and charter services. For verified reviews and testimonials, visit our Google Business and TripAdvisor pages.
MIPCOM 2019
Thank you for a wonderful experience. The food and yacht accommodation were spectacular and the service was first class. We will definitely consider booking many more corporate events in Cannes with Charterminute in the future.
Laurent D.
Corporate Client - Paris
TripAdvisor 2020
Fabulous boat and service – best on the riviera for a great day out book with this company! We chartered a v65princess and on board was amazing nothing too much trouble beautiful snacks and service- a wonderful day on the french riviera !
Gill K.
Private Client - UK
TripAdvisor 2023
I have chartered numerous times. Remi at Charterminute is by some way the best. I look for value for money, a modern vessel and a service oriented crew, and that is exactly what I got, everything was as it should be. My family and I had a wonderful time
Andrew G.
Private Client - UK
Google Review 2023
We had a parasailing boat and a water toy company join us halfway through the day, Remi coordinated everything with ease, and the day charter itself was perfect. He could not have been more helpful or responsive.
Rosemarie F.
Private Client - UK
Google Review 2022
I can 100% recommend Charterminute and Remi. They have my full trust and we have just held a Cannes team-building day organized by Remi (for 20 guests on a maxi-catamaran Lagoon), everything was perfect. 
O. Hensen
Corporate Client - Norway
Google Review 2023
For the second time, we have had an amazing day charter with Charterminute. The boat was incredible for our party of 12 to enjoy all day, and we had a wonderful and attentive crew. Fairly last minute, we ended up needing a larger boat than expected and Remi was beyond kind with assisting us. He also assisted us with reservations and made sure the entire day was seemless. 10/10 recommend!
W. Twomey
Private Client - USA
Google Review 2023
…In conclusion, if you're looking for a Mediterranean luxury yacht charter, I wholeheartedly recommend Charterminute. Their exceptional booking service, led by Remi, and the expertise of their best-in-class skipper, Stephen, create an experience that is second to none. Prepare to be pampered, amazed, and left with memories that will last a lifetime.
B. Velasquez
Private Client - USA
Google Review 2023
Just the most perfect day! Contacted Remi through the website – he responded within minutes, arrangements were really straightforward, and set us up with a fantastic boat, Lena and skipper for the day! Despite it being a holiday weekend, he also arranged a table at a lovely restaurant for us – the trip was truly "Formidable"! Merci Beaucoup Remi – jusqu'à notre retour – Santé!
W. Peall
Private Client - UK
More reviews: Google Review | TripAdvisor
Customer success story
Elevate your corporate events, as our long-time client Trace TV has done at MIPCOM since 2013: watch a short video of Trace TV's yacht party in the Old Port of Cannes.
The event for 250 guests on a 105-foot flybridge motor yacht featured a live DJ, custom lighting, two bars, security, and exclusive branding.
Contact us
Ready to embark on an unparalleled adventure?
Please speak to our experts today to find the best charter deals and luxury yacht offers that suit your needs.
Charter Broker: Remi van der Deure
T: +33.(0)4.93.67.80.94
Mobile: +33.(0)6.62.46.59.91
Email: info@charterminute.com
Charterminute is featured on Travelmag, the leading online-only travel magazine with in-depth features such as destinations both major and under the radar; over 50 writers worldwide.
Charterminute
Administrative office: 345 Chemin de Saint Claude 06600, Antibes, France
Founded in 2010, SIREN company number: 524 927 860
E-MYBA and ECPY member
MYBA superyacht seminar training in 2008
Galleon Marine Insurance
Additional information
For your peace of mind, we adhere to the highest standards of safety and privacy.
Please find links to our Privacy policy and Terms of Service.
---