Top Saint-Tropez boat rentals
Explore Saint-Tropez's Hidden Gems.
When it comes to indulging in the ultimate French Riviera yacht charter experience, renting a boat from Saint-Tropez is a fantastic choice.
Sail to chic and viby Pampelonne beach clubs for fine Mediterranean cuisine, explore crystal-clear waters at La Bastide Blanche and uncover hidden gems like Heraclée Beach.
Browse some of our luxury boats (Princess Yacht, Itama…) and exclusive Saint-Tropez yacht charters for premium trips.
Saint Tropez boat rentals selection
*: Day rates include an 8-hour charter, a qualified skipper/crew, French VAT at 20%, soft drinks, and towels.
Need help?
Our website features only a limited selection of yachts. Contact us for more options and availability.
T: +33.(0)6.62.46.59.91
Contact us
Why rent a boat in Saint-Tropez?
Rediscover the hot spots of the Riviera
Rediscover stunning destinations like La Bastide Blanche, the tranquil Bay of Agay, or even the captivating Golden Islands through boat charters.
Enjoy a unique EXPERIENCE
Tailor your Saint Tropez boat trip with the latest water toys, explore the Riviera's finest hidden gems for a truly VIP experience.
Escape the coastal crowds
Discover secluded coves aboard one of our premier yachts, where you can experience total privacy and relaxation in off-the-beaten-path locations.
Type of boats you can charter in Saint-Tropez
Choose from a range of stylish boat rental options, from family-friendly motor boats to luxurious motor yachts designed for an unforgettable French Riviera voyage.
| YACHT TYPE | MAX. GUESTS | DESCRIPTION |
| --- | --- | --- |
| Powerboat | 11 | Boat rental with a skipper, perfect for comfortably touring the area. |
| Catamaran | 200 | Up to 200 guests – Beamy boats, spacious sunbathing deck space, perfect for boat parties and family trips. |
| Yacht | 12 | Luxury motor yachts offering a good selection of water toys and top-notch service. |
| Superyacht (40m+) | 12 | Not available for day charter in high season. |
*: high season: July and August
Amenities to expect
Our luxury yacht rentals in Saint-Tropez typically include amenities such as:
Soft drinks
Comfortable seating, sunbeds, and a swimming platform
Sun awning
Towels
Shower and restroom
Snorkeling gear
Paddleboard or Kayak (for boats over 40ft)
Fridge (and icemaker on a mid-size yacht)
Speakers to listen to your favorite music (cable or Bluetooth connection)
Safety equipment such as life jackets
Upon request, we offer additional services like alcohol provisioning, catering, and water toys, including jet skis, kayaks, and electric surfboards.
Looking for a boat rental in Saint-Tropez for more than 12 guests?
Take a look at our eco-friendly maxi-catamarans, which can comfortably host a 200-guest yacht party.
Large boat rentals
T: +33.(0)6.62.46.59.91
How to book your Saint-Tropez yacht charter
Booking your boat rental with Charterminute couldn't be easier. Here's a step-by-step guide to walk you through the rental process:
Select the Date: Determine your flexibility.
Choose the Boat: Based on preferences, passenger count, and budget.
Contact Us: Via email or phone.
Inclusions: Ask about Captain/Crew, fuel costs, and boarding fees.
Itineraries: Discuss dining options and water toys.
Terms: Read all rental terms and conditions carefully.
Cost of renting a boat in Saint-Tropez
What's included
Here's a rough breakdown of day rates for different yacht types:
Powerboat (40+50ft): From €2,650 to €3,500, ideal for affordable boat tours in the Saint-Tropez area.
Catamaran – 56ft: From €4,200 for 16 guests, perfect for large groups, a delivery fee may apply.
Yachts (60ft and more): From €5,000 and more, offering a luxurious private yacht charter experience.
What's not included
Fuel: It's always a good idea to ask for an estimated fuel cost before booking a day charter in southern France due to high fuel costs.
Crew tip: Remember to tip 10-15% for good service.
Alcohol and food: Can be purchased based on your preferences. A small delivery fee may apply.
Taxes: Local taxes, boarding and/or passenger fees for a large group, tip for pontoon or transfer guy, delivery fee.
Tips for a successful charter in Saint-Tropez
Timing is Everything: book early to secure your dream yacht, especially during the high-demand peak season in July and August.
Choose Wisely: opt for a yacht that comfortably accommodates your group to ensure a luxurious experience.
Know the Ropes: familiarize yourself with yacht charter etiquette for a smooth sailing experience.
Boarding and disembarkation: The port of Saint-Tropez, a small and often crowded harbor, especially in August, requires flexibility for boarding. Convenient touch 'n go boarding and disembarkation occur near the old tower.
Pack Smart: bring cash, sunglasses, copies of IDs, hats, sunscreen, and any special gear you might need.
Weather Watch: always consult weather updates before setting sail to plan your journey accordingly.
Best time for a Saint Tropez boat rental
Although the French Riviera benefits from 300 sunny days and a mild climate, the best time for a Cannes boat trip is in June or September when the sea water is 19-21°C and the air temperature is 25-27°C.
Popular destinations and charter itineraries
A Saint-Tropez yacht charter is the ultimate way to explore the hidden gems of the French Riviera at your own pace, in total privacy. The good thing is that there is no need for an extensive boat trip to enjoy the best that the Côte d'Azur offers.
1. Saint-Tropez boat tour: 3 sights that are a must-see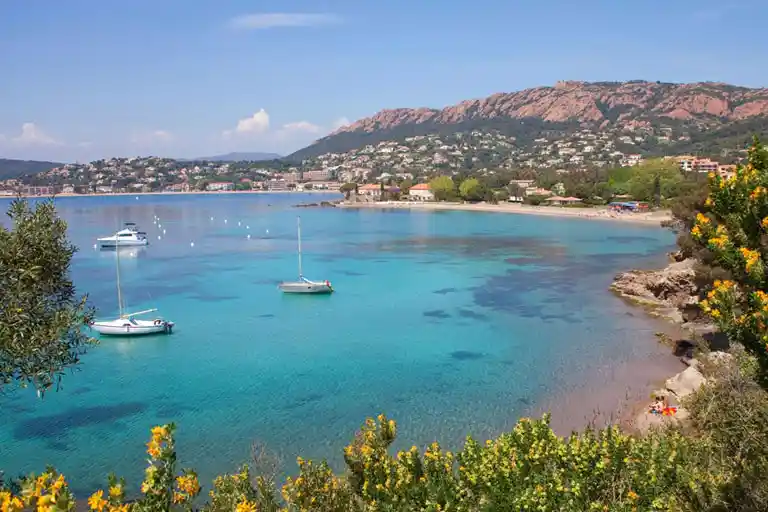 Bay of Agay
Discover the hidden gem of the Bay of Agay, just 15 nautical miles from bustling Saint-Tropez.
This tranquil oasis offers sheltered beaches perfect for relaxing, such as Les Baumettes Beach. Paddle boarding and snorkeling are highly recommended.
The entrance to the bay is marked by a charming red lighthouse, while the entire area is framed by the iconic red rocks of the Esterel Hills.
A must for any French Riviera boat trip.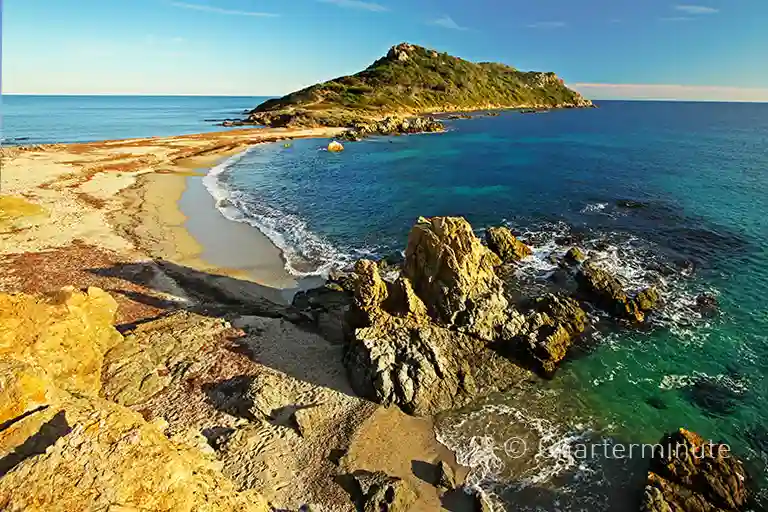 Pampelonne, La Bastide Blanche
Explore the coastal trails and hike along the rugged cliffs and coastline for amazing views of the unspoiled Mediterranean
Sea and landscape.
Snorkel or scuba dive – The cove is excellent for exploring the underwater world with its rocky reefs and various marine life.
Discover le Lavandou, Bormes-les-Mimosas, and other charming seaside villages.
Play with the latest water toys at the nearby Pampelonne beach for an active day at sea.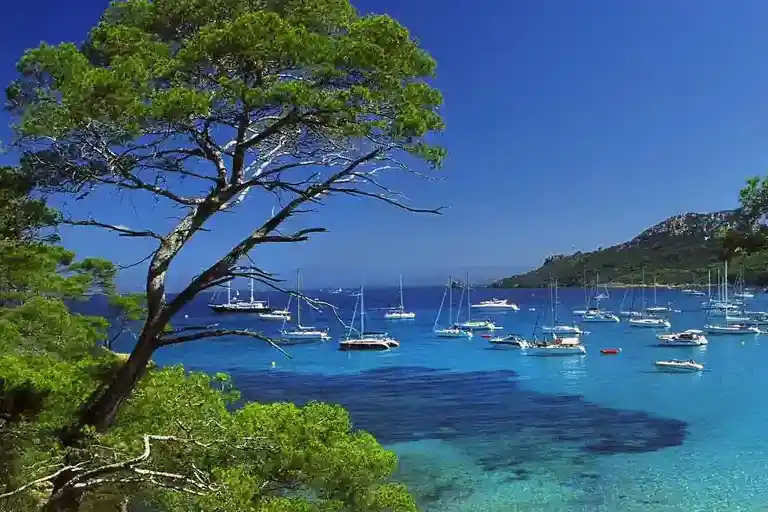 Golden Islands, Porquerolles
Porquerolles has some of the finest beaches in the French Riviera, such as Notre Dame Beach, Courtade Beach, and Plage d'Argent. Stop to swim, soak up the sun, or picnic.
Snorkel – The island's clear waters offer excellent visibility to the colorful sea life and giant groupers.
Explore the interior trails and coastline by foot or bike.
Explore the Fort Sainte-Agathe – This 19th-century fort at the port offers beautiful views over the small harbor.
2. Saint Tropez boat rental : points of interest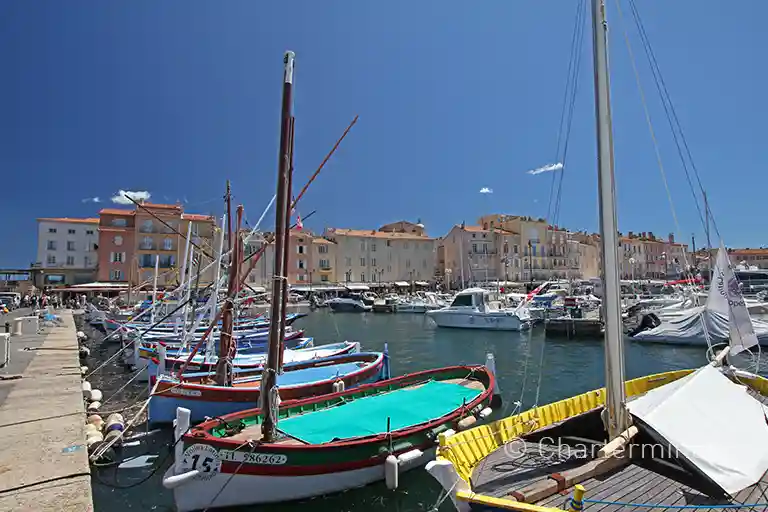 3. Popular yacht charter destinations from Saint-Tropez
Embarking from the port of Saint-Tropez or Cogolin, you have four main route options:
Local tour: Gulf of Saint-Tropez, Pampelonne
No need to take a long cruise to enjoy the St Tropez area and its hotspots: Canebiers Bay and Agay Bay are not far from St Tropez and offer superb
settings together with a sheltered bay
Esterel coast, Cannes Lérins Islands – 1-hour 30 minutes boat trip
Cruise from St Tropez along the rugged Esterel coastline, dropping anchor at the tiny Île d'Or for a swim and paddleboarding through the red rock inlets on this scenic sea voyage to Cannes.
Walk among the stone trees of St-Honorat, visit the old fortress, buy a local liquor called Lerina made by the active monk community, or snorkel
the underwater sculptures between the Lérins Islands.
Villefranche, Beaulieu sur Mer – 2-hour boat trip
This is one of the most popular boat trips, featuring superb coastal views, good restaurants, and calm waters with protected anchorages.
The majestic bay of Villefranche-sur-Mer is a must-see with its old-style villas and lush greenery, while the small gulf of St-Hospice is unique with
its crystal clear waters and impressive limestone cliffs at la Mala.
A boat tour of Monaco's main harbor is a great addition.
Golden Islands, Porquerolles – 2- hour 15 minutes boat trip
Booking a boat tour from Saint-Tropez is a great way to explore the natural beauty of Porquerolles and Port Cros. June and September may be better to visit as they are less crowded.
Porquerolles is known for its beautiful beaches, crystal clear waters, small restaurants, and unspoiled natural landscapes. Porquerolles is an open sea area that can be windy; a boat trip from Tropez to Porquerolles requires favorable weather conditions.
On your way to the Golden Islands, do not miss our favorite unspoiled gem of the French Riviera: the beautiful beach of La Bastide Blanche.
4. Hidden gems to explore during a yacht charter in Saint-Tropez
Here are some of our favorite hidden gems accessible by boat:
La Bastide Blanche area: crystal clear waters and sandy beaches, a must-see.
Héraclée Beach: probably one of the most beautiful south-facing sandy beaches near La Croix Valmer.
Calanque des Anglais: a tiny but gorgeous rocky inlet nested in the red rocks of the Esterel coast.
Relais des Calanques: a superb and wild rocky inlet surrounded by palm trees and red rocks of Estérellite rocks.
Cabane Bambou is a luxurious straw hut located on the sandy shores south of Pampelonne Beach, serving exquisite Asian cuisine.
Rubis wreck: have you ever dreamed of diving to explore a sunken submarine wreck?
Where to eat near Saint-Tropez
The Saint-Tropez area, especially Pampelonne (Ramatuelle), is known for its many stylish beach clubs and seaside restaurants accessible by boat. Here are our top picks.
Top pick: Club 55 – Pampelonne
The iconic St Tropez beach club was founded by the Picatoste family in the 1950s and has since become a symbol of the region's sophistication and style, lively ambiance, upscale Mediterranean cuisine, and celebrity sightings.
In French: une valeur sûre.
Tender service available, private beach.
T: +33.(0)4.94.55.55.55
Website
Bagatelle – Pampelonne
Chic beach club offering traditional French dishes revisited by the chef Rocco Seminara. Festive spirit, generous cuisine, and friendly atmosphere.
Tender service available, private beach.
T: +33.(0)4.94.79.83.25
Website
Cap 21 Sirènes – Pampelonne
Casual Pampelonne beach restaurant with a family-friendly vibe, tasty food such as wood-fired pizzas, fresh salads with local products, and scenic sea views.
Tender service available.
T: +33.(0)4.94.79.83.15
Website
Cabane Bambou – Pampelonne
Tucked away along a bamboo-lined path, Cabane Bambou offers a secluded paradise on the road to Pampelonne. Its renovated restaurant serves cuisine influenced by the seasons, providing a taste of the simplicity of the South.
Private beach, tender service available.
T: +33.(0)4.94.79.84.13
Website

Saint-Tropez Insider Beach Club Guide
Most beach clubs in Saint Tropez have a tender service to collect guests from their yachts.
Bring some cash to tip (€10-15) the tender guy.

Not all beach clubs are created equal: some are unsuitable for children and don't allow pets, while Niki Beach has a swimming pool.

Be aware of your belongings: there are some pickpockets occasionally.
Reservations are compulsory in high season (mid-July to mid-August).

Book well in advance (2 or 3 weeks): booking a table at August's most popular beach clubs is difficult.

Follow the guidelines and dress code when visiting: no flip-flops, no swimwear, and a casual chic dress style is required. Avoid wearing sportswear or casual wear.
Customer review
Learn why our private clients highly regard our tailored yacht charters.
" Just the most perfect day! Contacted Remi through the website – he responded within minutes, arrangements were really straightforward, and set us up with a fantastic boat, Lena and skipper for the day! Despite it being a holiday weekend, he also arranged a table at a lovely restaurant for us – the trip was truely "Formidable"! Merci Beacoup Remi – jusqu'à notre retour – Santé! "
William P. – private client, UK, 2023
" For the second time, we have had an amazing day charter with Charterminute. The boat was incredible for our party of 12 to enjoy all day, and we had a wonderful and attentive crew. Fairly last minute, we ended up needing a larger boat than expected and Remi was beyond kind with assisting us. He also assisted us with reservations and made sure the entire day was seemless. 10/10 recommend! "
W.T. – private client, USA, 2023
Charterminute: the 5-star yachting company on TripAdvisor and Google Reviews.
Interested in booking a Saint Tropez boat trip?
Contact us to create your tailored Riviera experience.
Contact us
T: +33.(0)6.62.46.59.91
Saint-Tropez yacht charter FAQ
Guide for an enjoyable French Riviera boat trip.
Related resources
---