French Riviera charter itinerary
Explore luxury and scenic beauty
Dating back to the 19th century, the Côte d'Azur captivates with its Mediterranean scenery, rich historical landmarks, gourmet cuisine, and breathtaking coastal backdrop.
To fully immerse yourself in this enchanting locale, consider our yacht charter itinerary: it's designed to inspire, but we're happy to tailor it to your specific needs and desires.
Day 1: Embarkation and cruise from Cannes to Saint-Tropez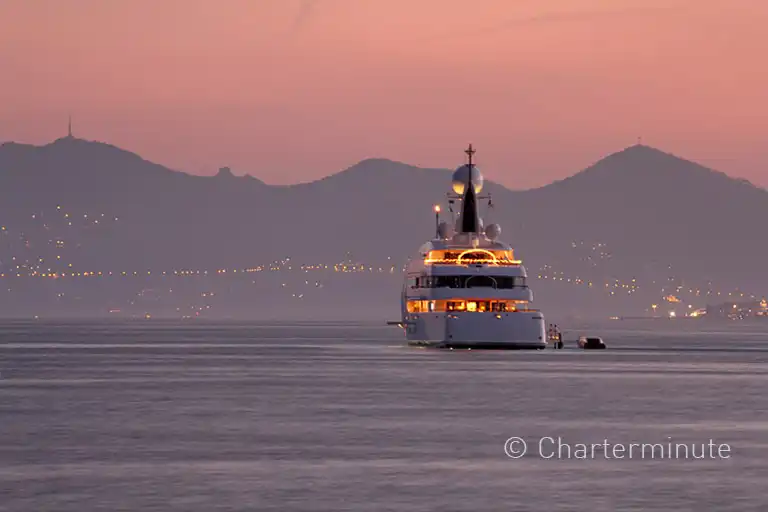 Setting sail from Cannes, the heart of glamour on the French Riviera
Cannes is more than just a city; it's a world-renowned symbol of elegance and luxury. It serves as your starting point, ideally situated between Monaco and Saint-Tropez. As you embark on your tailored charter, the excitement begins…
First dip into unspoiled Mediterranean nature between the Lérins Islands
Once aboard, it's time for your first adventure. Don your snorkeling gear and explore the underwater eco-museum created by artist Jason deCaires Taylor. It's an experience that combines art and marine conservation, for adults and children.
Esterel coast exploration and sunset cocktails
As the yacht cruises along the Esterel coast, you'll be captivated by the red volcanic rocks and hidden coves. As the sun sets, savor a cocktail on your flybridge as you arrive at the quaint port of Saint-Tropez.
Saint-Tropez nightlife and vibrant social scene
Your first day ends when you arrive in Saint-Tropez. Enjoy a cold beer at the Hôtel Sube before deciding on your evening plans: experience the vibrant nightlife at the famous Caves du Roy or relax with the family watching a movie on your yacht's big-screen TV.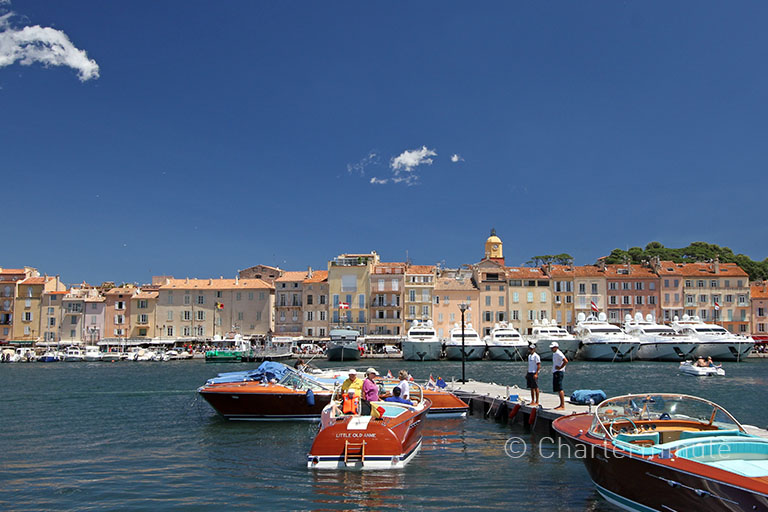 Day 2: Immerse yourself in the glamour and elegance of Saint-Tropez.
People-watching and gourmet cuisine in Saint-Tropez
Saint-Tropez is a playground for the rich and famous, and its cafes and boutiques are perfect for people-watching. Don't forget to have a drink at Le Tigrr, a local favorite. Le Sube or Senequier are perfect for people-watching.
Water sports activities and beach club experience at Pampelonne
Your yacht is equipped with various water toys, and Pampelonne Beach is the ideal place to use them. For a unique beach club experience, you have options like:
Club 55 (recommended)
Loulou
Les Palmiers
Nikki Beach with its swimming pool.
Off the beaten track: la Cabane Bambou
For those looking for something different, La Cabane Bambou offers a unique dining experience away from the bustling beach clubs.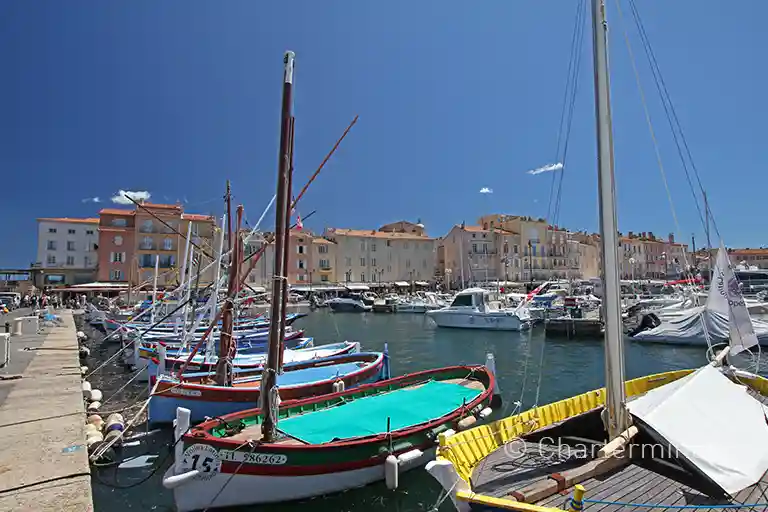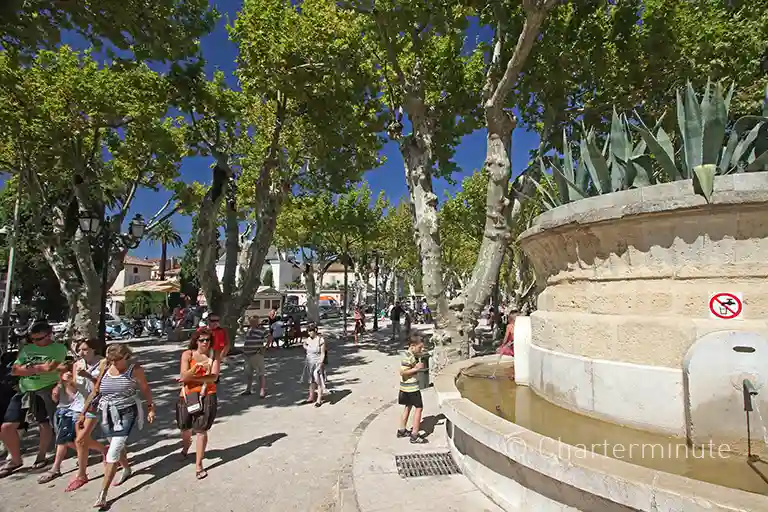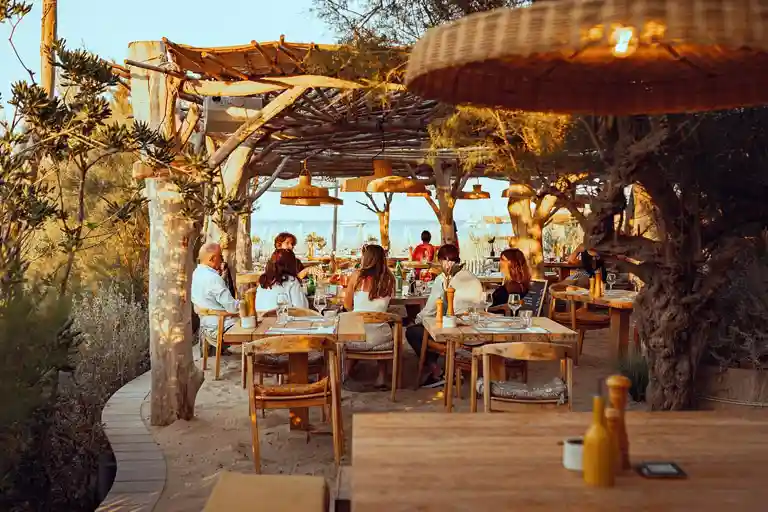 Hidden gems and lesser-known destinations
Explore the bay of Agay and its charming red lighthouse, and relax on the beach of Les Baumettes, a well-protected beach of fine sand and crystal clear water.
If you're feeling adventurous, ask a crew member to take you by tender to the Cogolin area, often referred to as the Venice of Provence.
DAY 3: Golden Islands and Port-Cros national park adventure
Set your course for the Golden Islands, specifically Île du Levant and Port-Cros. These islands are part of the Île d'Hyères archipelago and offer an ideal setting for a family adventure. Whether you prefer a nature trail or a picnic, the choice is yours.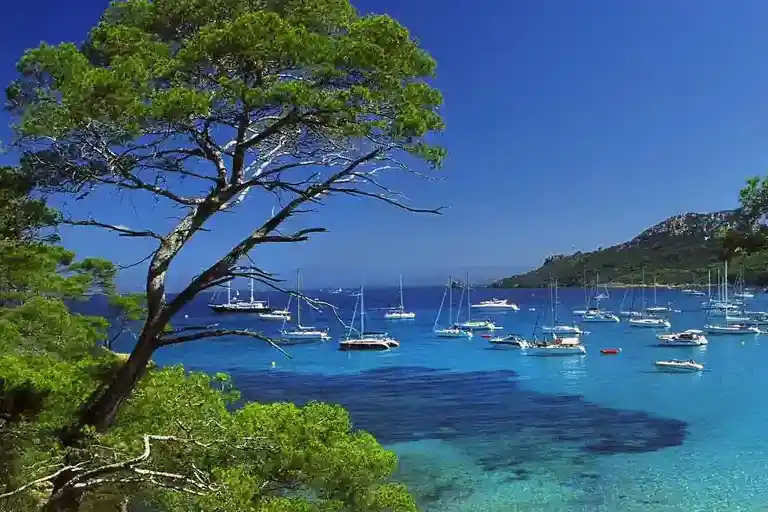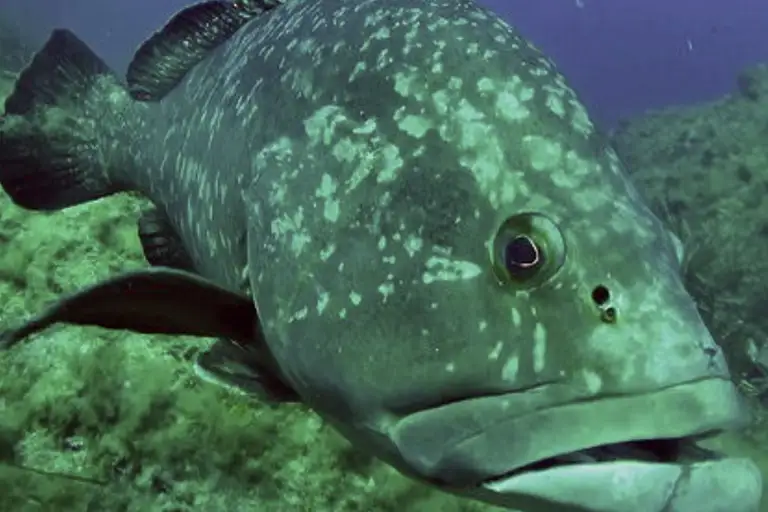 Snorkeling with massive groupers
Don't miss the opportunity to snorkel with the massive groupers that inhabit the waters around these islands. It's a chance to discover a rich marine life that's both fascinating and educational.
Dine al fresco and overnight anchorage
As the day winds down, prepare for an al fresco dining experience like no other. Watch the sunset over the tranquil waters and anchor for the night, weather and regulations permitting.
Day 4: Antibes, a blend of Mediterranean nature and history
Cruising to Antibes: Mediterranean history
From the Golden Islands, head east to the fortified town of Antibes. Here, you can explore the old town.
The Cap d'Antibes can be explored, either by tender or, for a more intimate experience, by paddleboard.
Local Insights into the rich history of Antibes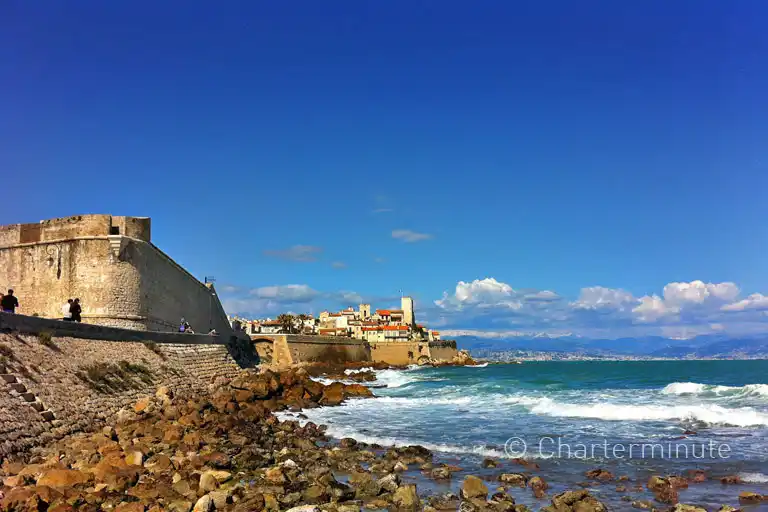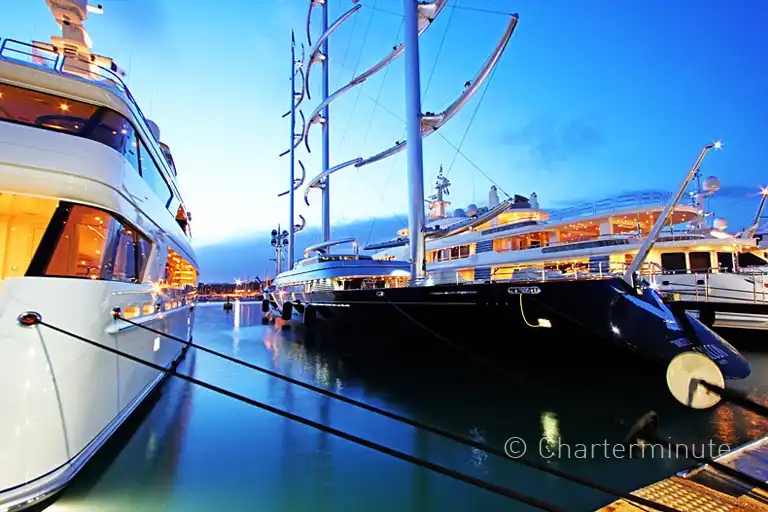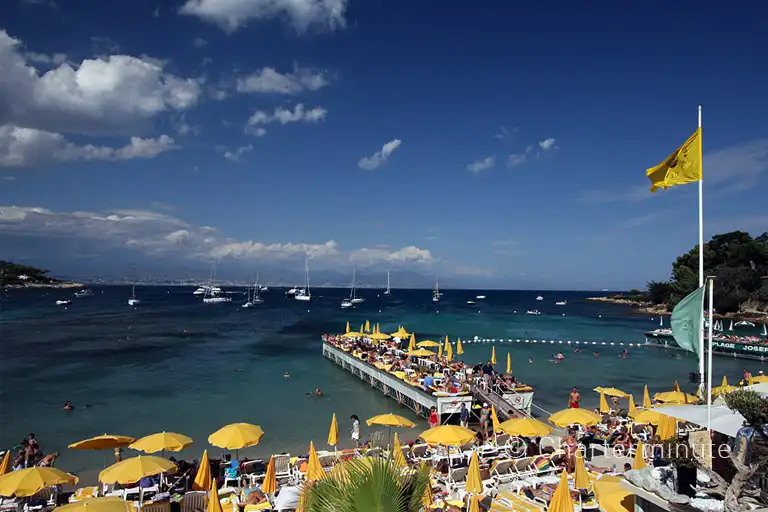 Antibes is not just beautiful; it's historically rich.
From Port Vauban, head to the Picasso Museum, located in the historic Château Grimaldi. Here, you'll find an impressive collection of the artist's works, offering a glimpse into his time in Antibes.
Finally, don't miss the chance to relax on the pristine beaches of Plage de la Garoupe and enjoy a glorious lunch at Plage Keller.
With its crystal-clear waters, it's the perfect spot to unwind before setting sail again.
DAY 5: Villefranche and Beaulieu: the essence of the French Riviera
Villefranche sur Mer: where magnificent Mediterranean scenery meets nostalgia
The Bay of Villefranche-sur-Mer captivates with its azure waters meeting rolling hills, all framed by the colorful village of Villefranche sur Mer. This idyllic setting has been a natural sanctuary for ships for centuries, making it an unmissable gem on any French Riviera yacht charter.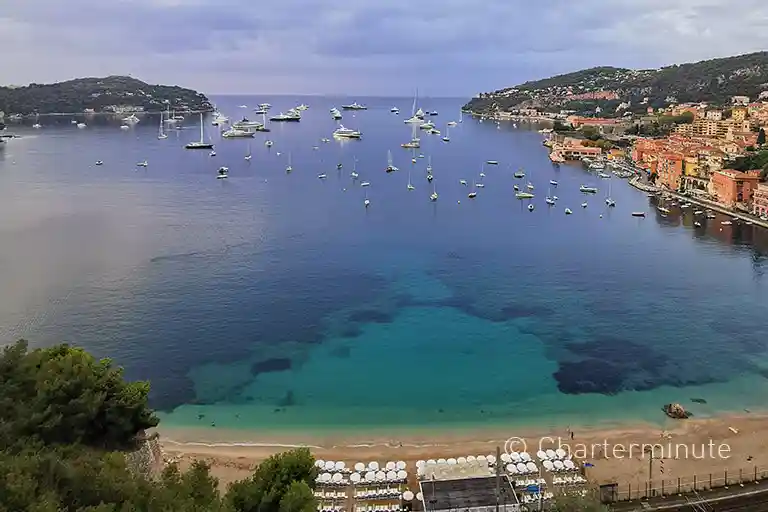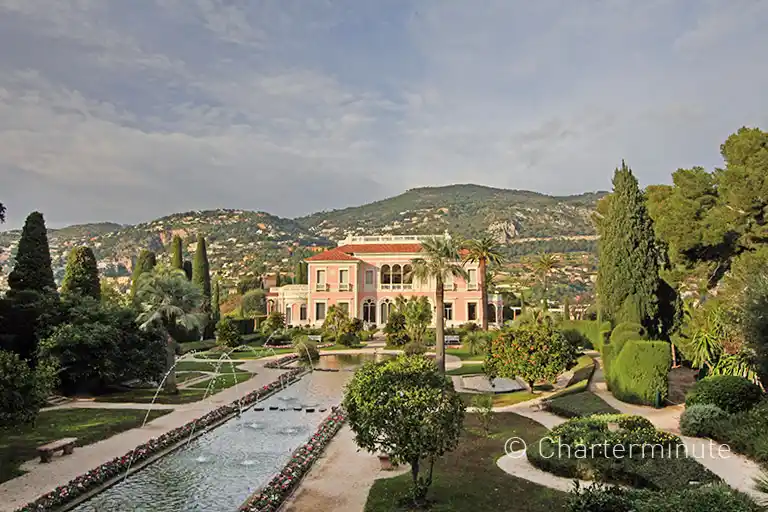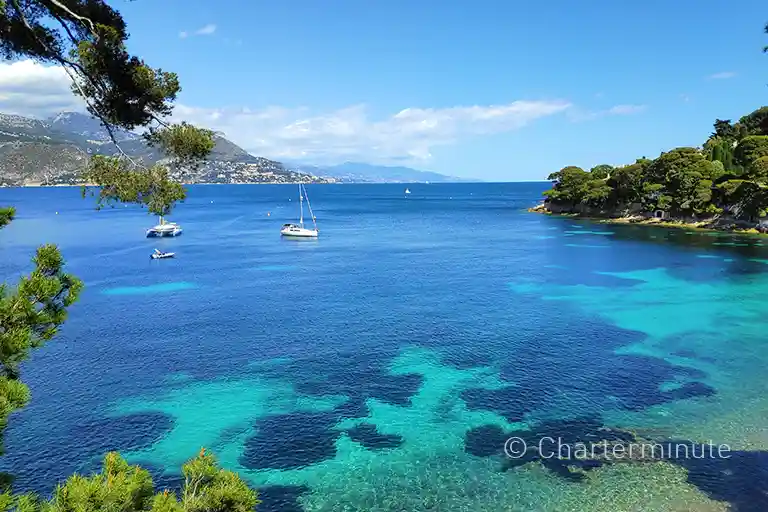 Beaulieu Sur Mer and St-Jean: a taste of Belle Epoque villas
In Saint-Jean Cap Ferrat, step back in time as you explore Belle Epoque villas such as Villa Ephrussi with its eight themed gardens and stunning panoramic views over the bay.
Enjoy a family lunch with the best Mediterranean cuisine at Paloma Beach, and play with the latest water toys in the bay of Beaulieu sur Mer.
DAY 6: Monaco, from casino glamour to world-class cuisine
When you arrive in Monaco, you'll find many attractions to explore. From the grandeur of the Monte Carlo Palace and the James Bond Casino to the high-end boutiques, Monaco is a playground for the elite.
Oceanographic museum
Don't miss the Oceanographic Museum, home to a large shark lagoon and other intriguing exhibits perfect for the whole family.
Local cuisine specialties & gastronomy
For a local culinary adventure, try the Barbajuan, a local delicacy (a kind of fritter stuffed with chard, rice, and ricotta, among other ingredients) that perfectly encapsulates the unique flavors of the region.
For a gastronomic experience like no other, book a table at the Louis XV restaurant.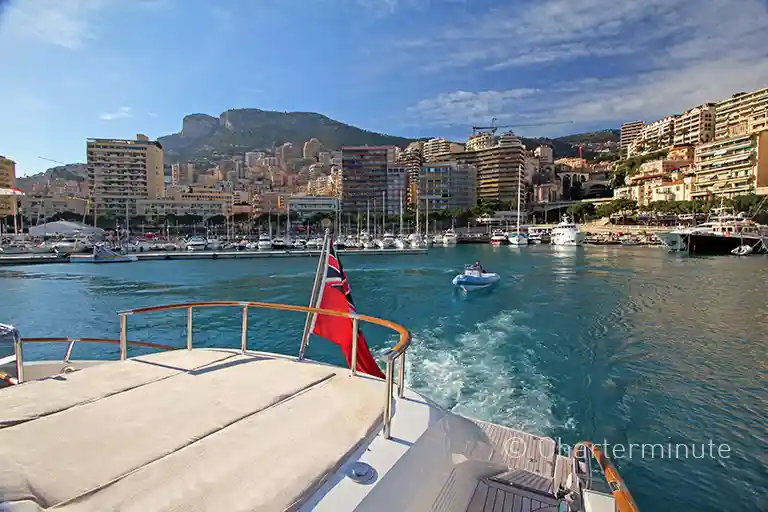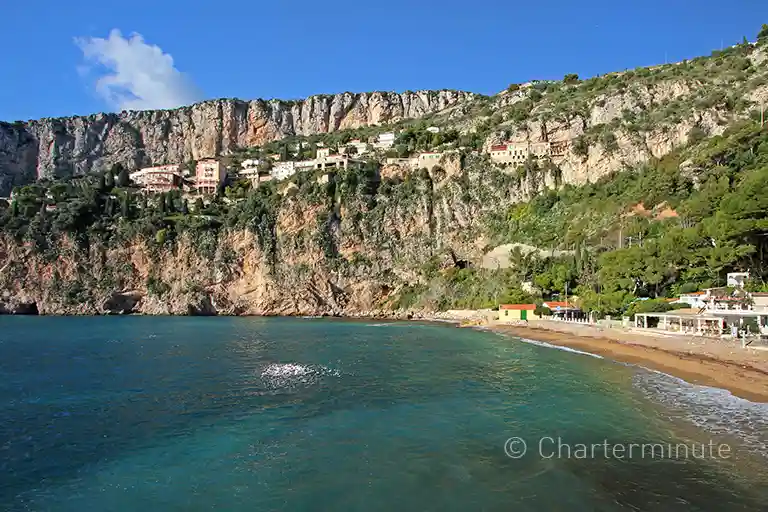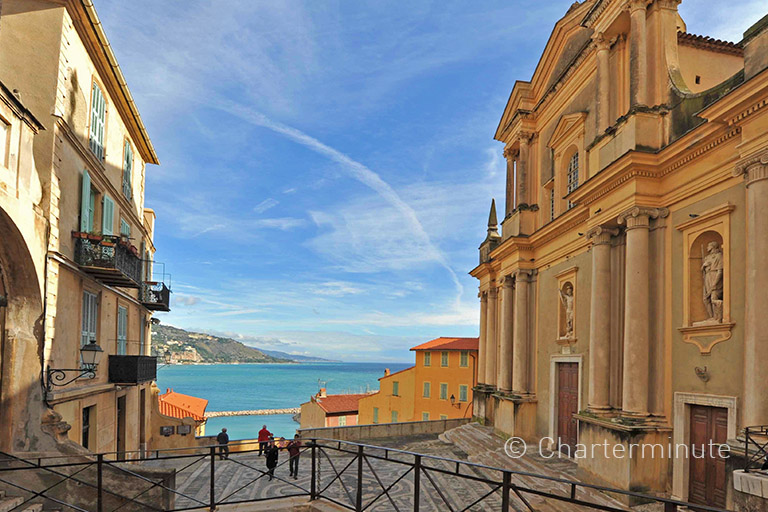 Menton and Roquebrune: hidden gems near Monaco
Just a stone's throw from Monaco lies the charming town of Menton. Here, Italian flair, complete with authentic gelaterias, blends seamlessly with the quintessential French Riviera lifestyle, offering a quieter but equally captivating experience.
Roquebrune-Cap-Martin offers an enchanting journey along its rugged coastline, nestled between the glamour of Monaco and the serene beauty of Menton. During your visit, you can indulge in a delightful lunch at the chic Meybourne La Plage Beach Club, which boasts impeccable sea views.
DAY 7: The final stretch: from Menton to Cannes
Explore the rich history of Saint-Honorat and Sainte-Marguerite Islands
The Lérins Islands are not just beautiful; they're historically rich.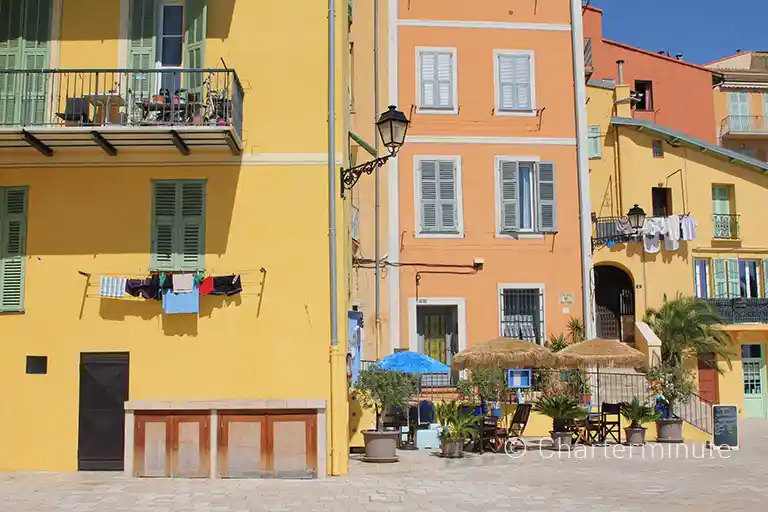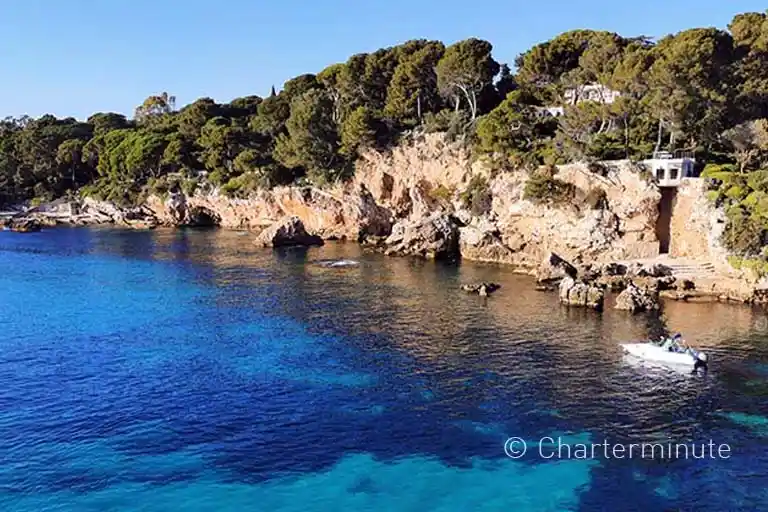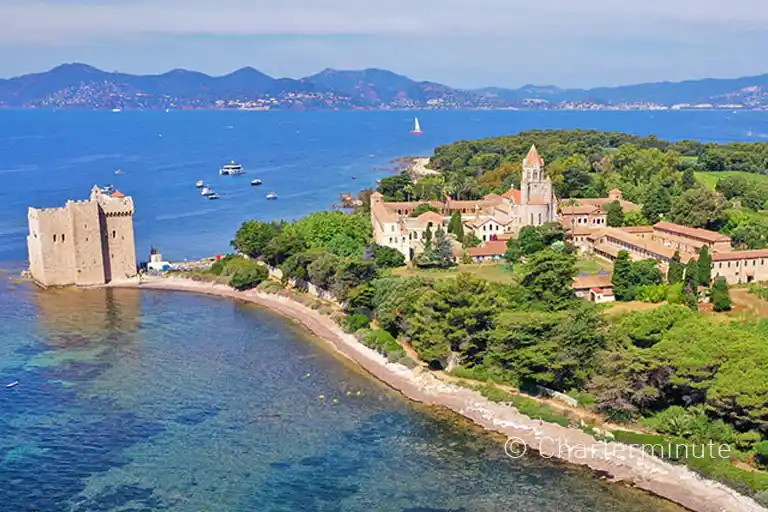 Visit the active abbey on Saint-Honorat and try their Lerina liquor. Also, don't miss the Iron Mask prison and the chateau for a panoramic sea view over the Bay of Cannes.
As your journey comes to an end, make the most of your final day with a water toys session in the bay of Mandelieu la Napoule. Whether it's jet skiing or paddleboarding, it's your last chance to indulge in water-based fun before you disembark in Cannes.
Need help?
Contact us for more options and availability.
T: +33.(0)6.62.46.59.91
Contact us
French Riviera weather: best time for a yacht charter
June and September are prime for a private yacht charter, offering a balance between rates, activities, weather, and crowds, notwithstanding the allure of July and August.
Best anchorages of the Côte d'Azur*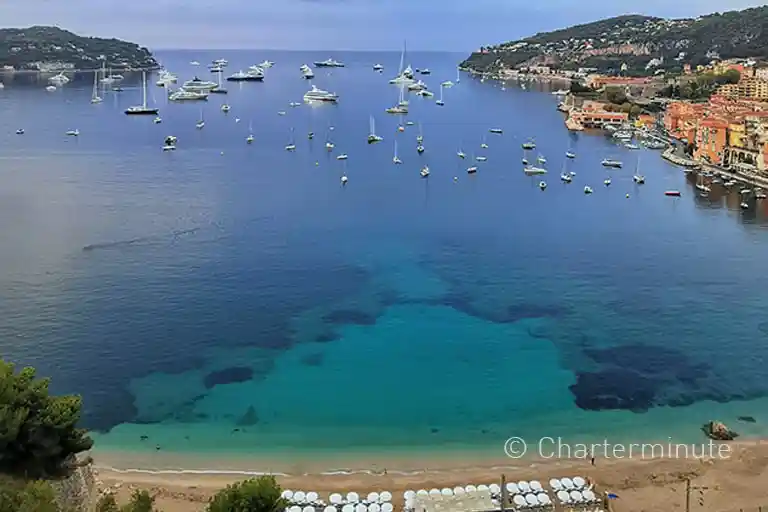 *: Please note that yachts longer than 24 meters overall are banned from close mooring in certain coast areas to prevent overcrowding and protect Posidonia seagrass.
Expert advice
Remi van der Deure, Senior Charter Broker in Antibes, says:
" When selecting a yacht, it's crucial to evaluate the crew as much as the vessel. Avoid getting entangled in the latest technology or technical details. Instead, talk to our charter broker who can help you find the perfect fit and ensure a personal experience. "
Contact Remi
T: +33. (0)6.62.46.59.91
Cost of a private yacht charter
The cost of renting a yacht in the South of France is influenced by a blend of factors such as the yacht's age and pedigree, type, equipment, and length, as well as the charter duration and contract type, which can affect VAT rates ranging from 0 to 20%.
Typically, commercial yachts in the French Riviera are rented on a "plus expenses" basis, adhering to MYBA* terms. Alternatively, some commercial yachts can be rented under ECPY** terms.
Below is a weekly price table to assist you in planning your opulent escape.
YACHT TYPE
CHARTER FEE***
EXPENSES
Motoryacht <= 100 ft
from €20,000 to €200,000 + expenses
APA: 35% of the gross charter fee.
The cost of mooring a large sailing catamaran is substantial, comprising both regular expenses and a 40% premium.
Superyacht > 150+ ft
from €100,000 to €1.500,000 + expenses
APA: 30% of the gross charter fee.
Sailboat
from €30,000 to €350,000 + expenses
APA: 30% of the gross charter fee.
Catamaran
from €20,000 to €250,000 + expenses
APA: 35% of the gross charter fee.
The cost of mooring a large sailing catamaran is substantial, comprising regular expenses and a 40% premium.
*: MYBA stands for Mediterranean Yacht Brokers Association. Most commercial yachts on the Riviera are still rented under MUBA terms.
**: ECPY: European Committee for Professionals Yachting.
***: Weekly rate MYBA terms.
What's included in the charter fee (MYBA terms)?
Under MYBA terms, the charter fee encompasses the yacht and all its equipment—from spa facilities to water toys to entertainment systems—the crew's wages and food, the ship's laundry, operating consumables, and insurance coverage for both the yacht and crew.
What's included in the expenses (MYBA terms)?
These expenses cover fuel, food, beverages, mooring fees, private marina fees, visa fees if applicable, harbor fees, park fees, and taxes.
The APA excludes the delivery fee and security deposit, if applicable.
How to book your yacht charter
Booking your crewed yacht charter with Charterminute is straightforward.
Here's a step-by-step guide to navigating the rental process:
First, ascertain the date and your flexibility.
Select the type of boat you wish to rent based on your preferences, the number of passengers, and your budget.
The choice of boat type also hinges on the distance to be covered and the chosen destination.
Reach out to us via email or telephone.
Inquire about recommended itineraries, dining options, and the availability of water toys.
Reserve as early as possible, especially for peak summer months.
Thoroughly review all rental terms and conditions before booking.
Submit a deposit and be mindful of the cancellation policies.
Other French Riviera itineraries
Explore the French Riviera with our personalized yacht charter itineraries.
3-day whirlwind tour of Cannes, Monaco, and Saint-Tropez
12-day adventure that takes you to the sandy beaches of North Corsica.
Expert tips to make the most of your luxury charter
Make the most of your yacht charter party with our professional advice:
1. Choosing the right yacht type
A comfortable displacement yacht won't cover the same distance as a swift Italian sports yacht like a Pershing or Leopard: plan your itinerary accordingly with the aid of your charter broker.
Average cruising speed of a displacement yacht: 12-15 knots
Average cruising speed of a fast sport yacht: 22-30 knots
2. Charter style
Determine whether you prefer a leisurely or action-filled adventure on a yacht equipped with many water toys and exploratory amenities. This will help pinpoint the type of yacht, crew profile (energetic young crew, crew offering a more formal service…), and itinerary that aligns with your desires.
3. Crafting a flexible itinerary
Stay informed about seasonal weather and local regulations (e.g., the French Riviera has stringent anchoring regulations). However, flexibility is vital. Unpredictable weather and unforeseen delays can arise: adaptability ensures a smooth experience.
Remi van der Deure, Senior Charter Broker in Antibes, notes: "Be aware that Pampelonne can be windy. It's not uncommon to find yourself unable to disembark or re-embark at your yacht or beach club. In such scenarios, taking a taxi back to the port of St-Tropez may be necessary."
4. Budget consideration
When planning your charter itinerary, budget consideration is crucial.
Have a clear understanding of your spending capacity for the trip. If chartering a fast sports yacht like a Mangusta 108, be aware of the hourly fuel costs. For instance, on a prominent sports yacht like the Mangusta 130, the hourly fuel costs can be substantial, averaging around 1,200 liters per hour at Euro 2 without detax.
This knowledge will aid in making an informed decision to match the type of yacht and your itinerary without overstretching your budget.
5. Selection of the ideal layout
Consider the size and layout of a yacht based on the age and number of your guests.
Ensure the yacht's overall layout caters to your guests' needs. For example, if chartering a yacht with elderly individuals who may struggle with stairs, ensure the yacht has an elevator or at least poses no significant challenges for those with limited mobility.
Conversely, if traveling with children, consider a yacht with a bedroom equipped with a nanny's cabin.
6. Effective crew communication
Clear communication is indispensable. By the way, does your crew speak your language?
Remi van der Deure, Senior Charter Broker in Antibes, advises: "Take the time to fill out your preferences sheet, ask questions, and specify your needs for unique cuisine or a birthday celebration. The more detailed your wishes, the more personalized your experience will be."
7. The importance of pre-booking
During peak season, advance bookings for trendy restaurants like Club 55 in Pampelonne or la Guerite in Cannes, water toys, and bespoke visits ashore are recommended. Note that high-end restaurants on the French Riviera may levy substantial cancellation fees for last-minute cancellations.
8. Selecting activities and points of interest
Align your actions with your guests' interests. Whether beach relaxation or cultural exploration, your itinerary and activities should cater to all preferences.
Craft a bespoke charter itinerary
For a memorable getaway, contact us to craft your custom itinerary.
Contact us
T: +33.(0)6.62.46.59.91
Reviews and yacht charter testimonials
Discover genuine feedback from our satisfied clients who have experienced Charterminute's services over the past few years.
These authentic testimonials offer real insights into the quality and value we provide.
" We had a parasailing boat and a water toy company join us halfway through the day. Remi coordinated everything with ease, and the day charter itself was perfect. He could not have been more helpful or responsive. "
Rosemarie F. – private client, UK, 2023
" I can 100% recommend Charterminute and Remi. They have my full trust, and we have just held a Cannes team-building day organized by Remi (for 20 guests on a maxi-catamaran Lagoon); everything was perfect. "
Ole H. – Corporate client, Norway, 2022
Charterminute: the 5-star yachting company on TripAdvisor and Google Reviews.
Interested in renting a private yacht?
Contact us to create your tailored yacht experience.
Enquire
T: +33.(0)6.62.46.59.91
French Riviera yacht charter FAQs
Expert answers and guidance about luxury crewed yacht charter.
Related resources
Essential French Riviera Islands to visit
Corsica yacht charter
Please note that this document is not contractual. The yacht charters and their particulars displayed in the results above are presented in good faith and, while believed to be correct, are not guaranteed. Charterminute does not warrant or assume any legal liability or responsibility for the accuracy, completeness, or usefulness of any information and/or images displayed. All information is subject to change without notice and is without warranty.
Contact us for the most up-to-date information.
Updated on October 10, 2023
---